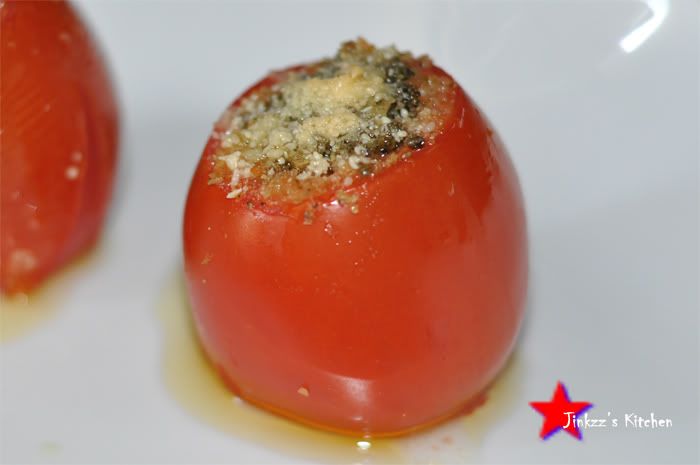 I have come to love tomatoes. My love affair with tomato was slow to developed though. I really hated the taste when I was younger but have come to love and enjoy its taste over the years. I can even eat it raw with just a slight sprinkling of salt. How's that for a huge change?
This dish is simple enough to make as I have some leftover homemade pesto. It just takes a little time and cooking is a breeze. I think the only hard part in the process is trying to hollow out the tomato cavities without cause much damage. Thankfully,I have these tiniest of spoons (they like 1/4 of a teaspoon in size) which I do not know what they are called nor do I know what their usage is. I think I have twelve of them which came from a set of silverwares that my husband inherited when their old house was demolized. Anyways, the flatware has been sitting in the silverware chest awaiting its use but I am afraid to use them as I have the tendency to lose silverwares. Don't ask me how but I have gone through several sets in the past and always end up losing most of them that I finally gave up buying expensive brands and just go with the cheapest that I could find...hehehe.
Anyways, I hallowed out the tomato cavities then stuffed it with pesto,breadcrumbs, and garlic mixture then topped with grated parmigiano reggiano. Popped it in the oven for 15-20 minute or until the top brown a bit then serve. The result is a really tasty appetizer which I could probably turn into a meal by eating several...hehehe.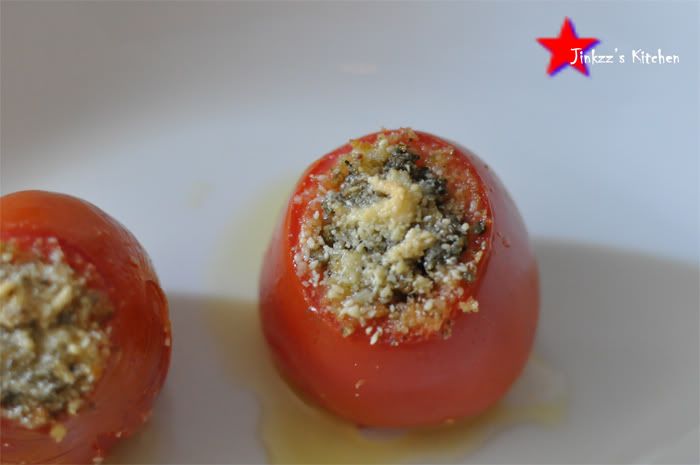 adapted from
here
Ingredients:
4 roma tomatoes, washed and dried them tops sliced
1/4 cup breadcrumbs
1/4 cup homemade pesto (
recipe here
)
1 clove garlic, chopped finely
2 tsp extra virgin olive oil
salt and pepper, to taste
1 Tbsp freshly grated parmigiano reggiano
1. Preheat oven to 350 degrees.
2. In a bowl, mix bread crumbs, pesto sauce, and garlic. Season with salt and pepper to taste then set aside.
3. Stuff hollowed out tomatoes with the filling mixture.
4. Top with grated parmesan cheese then drizzle olive oil on top
5. Place on oven safe pan and bake for 15-20 minutes or until top turns light golden brown.
6. Remove from oven and serve warm.
NOTE:
be careful when removing from the oven as it will be very hot.