I went grocery shopping yesterday, the second time for the week, and bought prosciutto di parma, arugula, walnuts and other basic ingredients. I could not wait to get home as I already have something in mind that I wanted to eat. Went home and started making arugula-walnut pesto which is a variation on the original pesto sauce with the substitution of arugula and walnuts in place of basil and pine nuts. It is a less pricey alternative to the expensive pine nuts and basil (darn, I need to grown my own as these babies are getting pricier each time I shop for them)and pine nuts but taste just as good. Arugula usually has a rich, peppery taste but surprisingly mellows when placed in combination with the other ingredients in pesto sauce.
After I finished making the pesto sauce, I proceeded to making a creamy pesto pasta with crispy prosciutto. Uhhmmm...yummy good. Nothing can beat a crispy piece of pork, right? Prosciutto di parma is a little bit pricey at $20+++ per pound but so worth it. I usually like to wrap it in around melon slices and eat as an appetizer...ahhh, that one taste heavenly...hehehe. Prosciuttio is Italian for ham. Some of the most famous places where prosciutto are made includes Parma and San Daniele. It makes one think what is up with these Italians and food, right? Hahaha, they must have been blessed by the food gods or something. Anyways, the creamy pesto is quite easy to make and didn't take me long to finish the dish.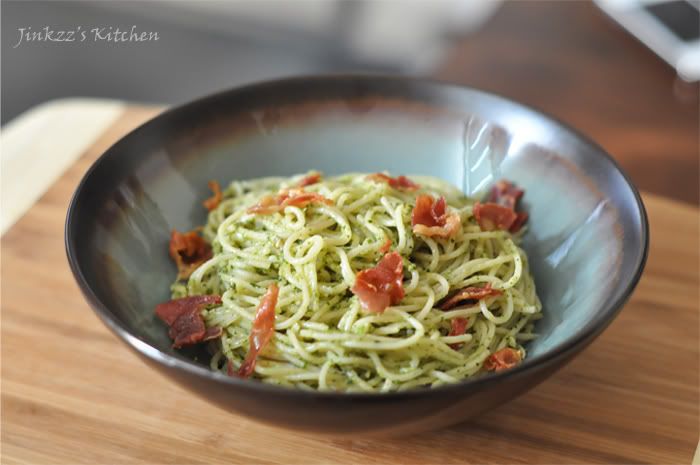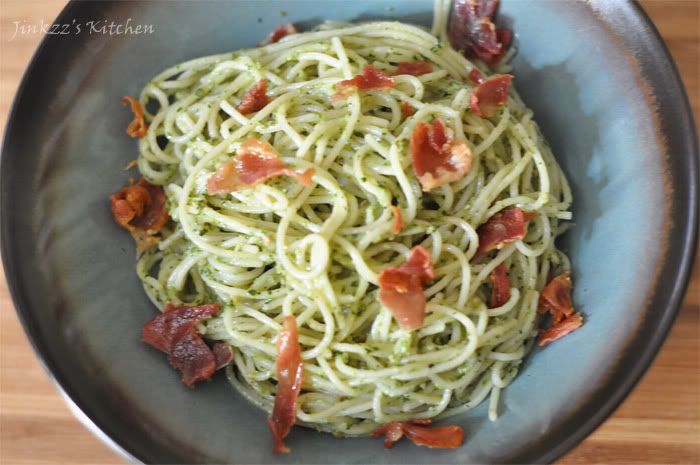 Ingredients:
Arugula Pesto Sauce:
2 cups fresh arugula leaves, stems removed
1/3 cup freshly grated parmigiano reggiano
1/2 cup good quality extra virgin olive oil
1/3 cup walnuts
2 cloves of garlic, chopped
salt and pepper to taste
1. Place walnuts andarugula in food processor.
2. Process until it is grinded. Scrape the sides with spatula.
3. Add olive oil in steady stream while continuing to process using a food processor.
4. Add garlic and grated parmigiano reggiano. Blend until well incorporated.
5. Add salt and pepper to taste.
6. Transfer to a container then set aside
Pasta:
1/2 lb linguine fini
1. Bring a pan of water to a boil. Add salt and oil before adding pasta.
2. Cook according to direction.
3. Save some of the pasta water before draining water from pasta using a colander.
4. Set aside.
Creamy Pesto Sauce with Crispy Prosciutto:
3-4 pieces of prosciutto
1 Tbsp extra virgin olive oil
1/3 cup arugula walnut pesto sauce
2/3 cup heavy cream
1. Heat pan over medium low and add olive oil. Fry prosciutto until crispy then remove from heat and transfer to paper towel lined plate.
2. Discard all but 1 Tbsp of the oil from the same pan where you fried prosciutto.
3. Add pesto sauce and heat gently.
4. When pesto sauce has warmed thoroughly, add cream. Mix well to make sure that pesto is incorporated well into the cream.
5. Simmer for 2 minutes before tossing pasta in. Coat pasta with the sauce.
6. Remove from heat and transfer to a serving dish.
7. Top with crispy prosciutto.