This is such an easy recipe which was born as a result of me making chocolate cake for hubby's birthday. I had leftover ganache and the top of the cake layers that I trimmed off to make it flat and even so they sit on top of each other. Making this truffle was so much fun as it feltlike playing with play-doh because you have to squish ingredients together to form the balls. It has been a long time simce I made cake-based truffle that I have honestly forgotten how easy and fun they were to make, Be warned though as they will be messy, sticky, and gooey. It was a good thing that I planned ahead and lined my table with newspaper to catch any of the crumbs that falls off the bowl as well as any ganache that dripped. The formed balls has to be frozen for a little bit though to help form them together but that didn't take very long, maybe around 15 minutes...just long enough to help it harden a little then off to an even messier task of coating it with ganache...oh, what a joy it was...hahaha...BY the way, I used disposable kitchen gloves when I was forming the balls together to prevent it from sticking to my hand so the balls weren't as perfect as it would have been if I used bare hand.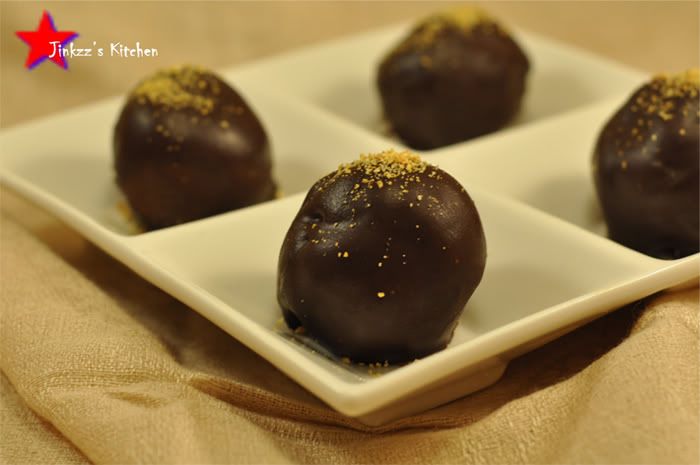 Ingredients:
2 cups Chocolate Cake, broken into crumbs (
recipe here
)
1/2 package of Cream cheese, softened
Chocolate gganache: recipe here
1. Mix chocolate cake crumbs with softened cream cheese and mix well. (
NOTE:
hand mixing it works best for me, I use disposable kitchen gloves because this could get sticky and messy)
2. Take a small piece and shape it into a ball. Alternatively, you can use a melo baller to make even rounds.
3. Once you have finished making the ball, refrigerate it until it firms up slightly (about 15 minutes or so)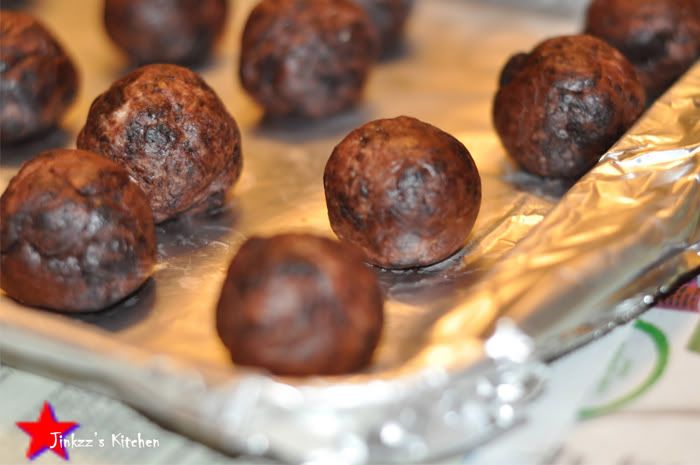 4. Once they have harden slightly, remove them from the refrigerator and coat with the ganache. To make it easier to coat these, use fork to dip them in the ganache and let the excess drip through the fork tines.
5. Refrigerate again to help ganache to harden and form a shell around the chocolate cake balls. Serve when ready.