Who can resist chocolate? There would not be too many I am sure. There is something about it that makes people smile and happy. I think it is its theobromine and phenethylamine components which produces a physiological effect on the body as well as its ability to stimulate the production of serotonin in the brain. I would say though that it can be considered as one of the pleasures in life that I really enjoy and love. All the other reasons (physiology mambo-jambo) are insignificant...hehehe. Chocolate is thought to have originated from Central and South America where cacao has been cultivated for at least three centuries.
This is a very rich, chocolate-y cake that is sure to make any chocolate lovers smile from ear to ear. This is a cake that I made for hubby's birthday. It has a chocolate cake base, a nutella filling, topped with chocolate ganache and sprinkled with nuts. Hahaha. I told you it will be chocolate-y. I have to confess though, I love chocolate but only in small doses as it gives me a headache and I break out into the tiniest rashes (?) on my face but that doesn't deter me from enjoying them. The cake though is so rich that I could only partake a very small slice lest I want to have a full-blown migraine as a result of eating too much chocolate in one sitting...hehehe...As a bonus, I was even able to make chocolate truffles, the recipe of which I posted here as well.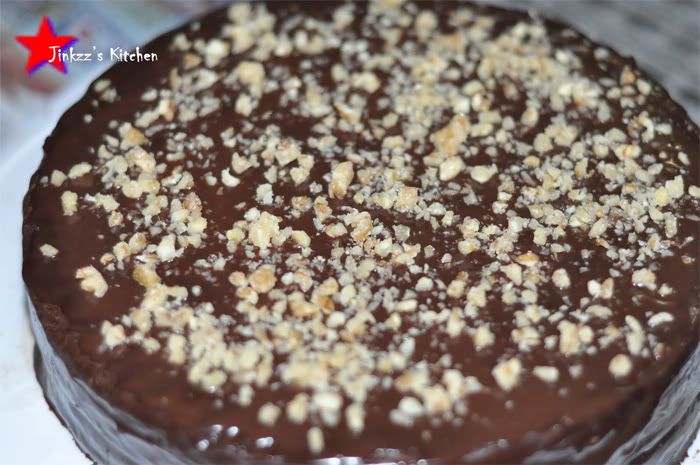 Chocolate cake base:
adpated from Hershey's Kitchen
Ingredients
2 cups sugar
1-3/4 cups all-purpose flour
3/4 cup good quality Cocoa
1-1/2 teaspoons baking powder
1-1/2 teaspoons baking soda
1 teaspoon salt 2 eggs 1 cup milk
1/2 cup vegetable oil
2 teaspoons vanilla extract
1 cup boiling water
Filling :
Nutella (Chocolate Hazelut Spread)
Frosting;Chocolate Ganache
Ingredients:
1 cup chocolate chips, semi-sweet
3/4 cup heavy cream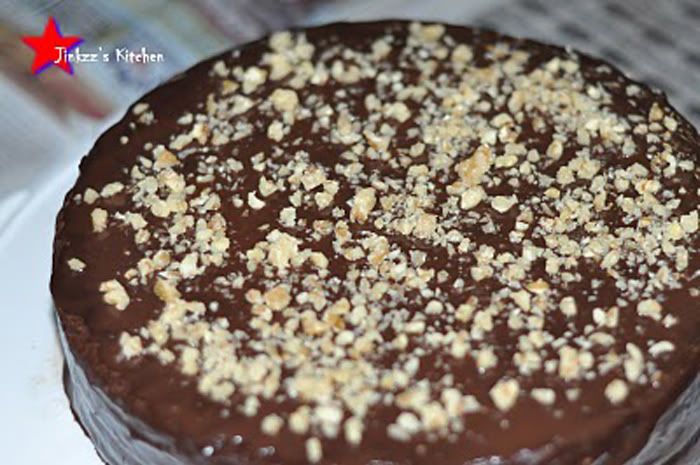 Directions for Cake:
1 Heat oven to 350°F. Grease and flour two 9-inch round baking pans.
2 Stir together sugar, flour, cocoa, baking powder, baking soda and salt in large bowl. Add eggs, milk, oil and vanilla; beat on medium speed of mixer 2 minutes. Stir in boiling water (batter will be thin). Pour batter into prepared pans.
3 Bake 30 to 35 minutes or until wooden pick inserted in center comes out clean. Cool 10 minutes; remove from pans to wire racks. Cool completely.
Direction for ganache:
1. Using a double boiler or heat proof bowl over a pan with water, place the crean on the bowl and heat gently until warm.
2. Add chocolate chips and stir until mixture is smooth and glossy.
3. Remove from heat and cool a little bit before using it to frost your cake.
To Assemble:
1.Take 1 of the cake and place it on yur cake server.
2. Trim to the top to make it flat. Do the same with the other cake (
NOTE:
You can save thatportion and use it to make chocolate cake truffles.)
3. Spread nutella on the top area and spread evenly.
4. Take the second cake, invert it and place it on top of the other layer.
5. Apply frosting and then refrigerate for an hour or more until ganache somewhat hardens.