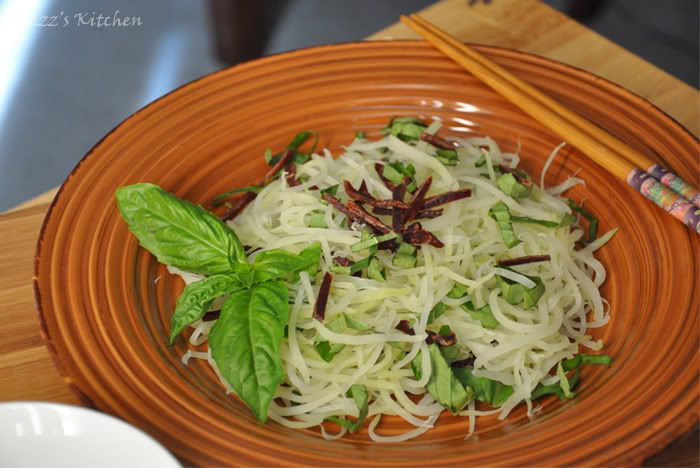 I remember eating a Vietnamese salad a while back and it tasted really good so I wanted to recreate it at home. I adapted this recipe from
Viet World Kitchen
but I modified it a little bit.
Papaya trees are abundant in the Philippines and usually used in several dishes such as atchara (pickles) or in a chicken stew. It can also be eaten raw both in its unripe or ripen stages. Unripe or underripe papaya can just be sliced and eaten with salt and vinegar while ripe papaya can be eaten by itself or grated then mixed with sugar and milk. Anyway you want to eat your papaya is fine as long as you add something to it. Eating papaya by itself can be a little bland unless it really ripe. There are varieties in the Philippines that are sweet when ripe and others that remains bland even when they are fully ripe. To me, the here is nothing compared to those foundin the Philippines but it could just be me and my preference :)
Anyways, this Vietnamese papaya salad is quite tasty thanks to the dressing which is a combination of sweet and spicy. I do think it is better to serve the dressing on the side so that each person can adjust it according to preference rather than dumping all the dressing on the entire salad. Plus, it makes it looks nicer too to serve the dressing and salad separately. I am not really a huge fan of the color of the dark soy because it looks too dark (to me) and makes the salad look unappetizing.
Dressing:
3 tablespoons regular (light) soy sauce
1 tablespoons dark soy sauce
1 tablespoon unseasoned rice vinegar
1 tablespoons sugar
1 or 2 Thai chillies, finely chopped (you can remove the seed if you prefer it less spicy)
Combine all ingredients and mix until sugar is dissolve. Set aside.
2 cups unripe papaya, peeled then julienned
1 teaspoons salt
4 ounces Asian-style beef jerky, julienned
a handful of basil,sliced thinly
1. Peel papaya, remove and discard seeds then julienne using a mandoline slicer.
NOTE:
Be careful not to cut your fingers.
2. Place papaya in a bowl then add salt. Let it stand for 15 minutes then squeeze as much of the fluid out. You can either do it by hand or use a cheese cloth to wring the fluids out. Discard any liquid.
3. Transfer to a clean bowl then fluff to loosen.
4. Add beef jerky and basil and toss lightly. Serve with dressing on the side.