=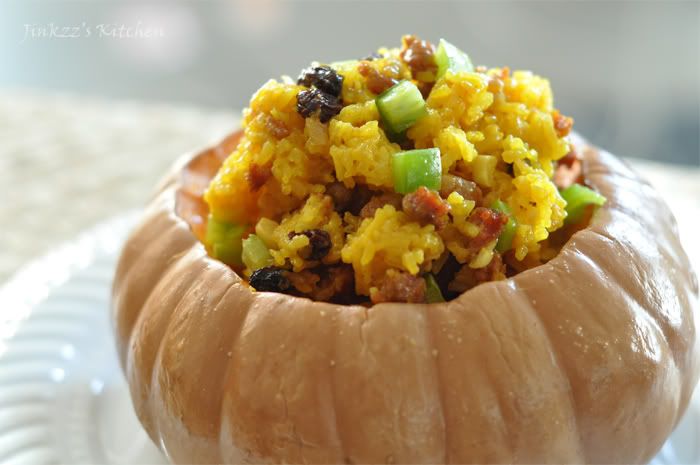 Autumn, where art thou? I really wish autumn would come soon because like i've said in my earlier post, I am so sick and tired of this almost year-round warm weather. Makes me think sometimes whether I should move somewhere cooler. Nah! won't happen because that would mean giving up the convenience that LA has to offer - easy access to ethnic resto and stores...hehehe.
Since I was really hoping for autumn to come, I made something that reminds me of the season - stuffed pumpkin! Pumpkin is just so autumn, isn't it? It also reminds me that the holidays are coming up - Halloween, thanksgiving, and yes, christmas. Oh, no! Soon it will be the end of the year but I am not going to think about that just yet and just wish for autumn to come :)
I made baked stuffed pumpkin for lunch today. I saw two small pumpkins when I went to the Korean store last time so I snagged both of them and had planned on making this dish sometime this week. It is quite easy to make actually since the stuffing is cooked separately from the pumpkin and they just come together towards the end. The reason I cooked the stuffing all the way through s because I always get scared that the rice won't be cooked correctly if I just use raw. Otherwise, If I use a different stuffing, I will just cook both the pumpkin and the stuffing together. The whole process took me about an hour which already includes cooking and preparation.
To carve the top out, you need to use a sharp knife with pointed end so you need to be very careful. I used a steak knife when I did it and angled it downward. While cutting the top, you need to cut all the way through so it comes off easily. I used a teaspoon to scrape all of the seeds and fibers inside the pumpkin then discard them. When cooking the stuffing, I cooked the rice in the rice cooker first before Imixed it with the rest of the ingredients. A long time ago, I learned a simple trick to ensure that the rice is well seasoned by using chicken stock instead of plain water. This eliminates the hassle of having to mix the rice well to make sure that it is evenly seasoned with salt. Read on for the entire recipe and direction.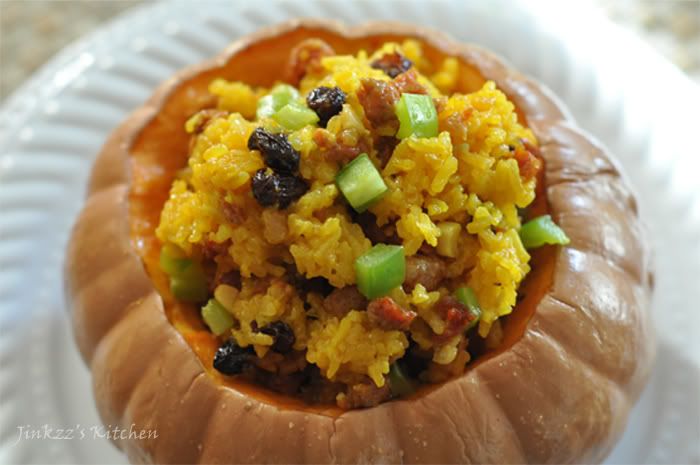 Ingredients:
2 small pumpkins (approxinately 2-3 lbs each)
1 tsp salt
Stuffing:
1 1/2 cups sweet rice (also known as sticky or glutinous rice)
1 tsp turmeric powder
1/2 lb. spicy longganisa (philippine sausage) or any of your sausage preference- casing removed and broken into small pieces.
2 cloves garlic, finely chopped
2 small shallots, finely chopped
1 small green bell pepper, cut into small cubes
1/2 cup raisins
sea salt and freshly ground black pepper, to taste
2-3 Tbsp oil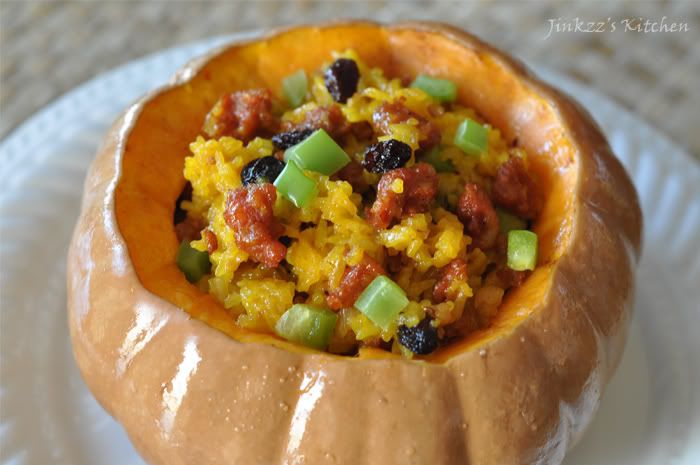 1. Preheat oven to 350 degrees.
2. Remove tops of the pumpkins then scrape seeds and fiber.
3. Sprinkle 1 tsp salt all over both pumpkins.
4. Take about 1 Tbsp oil and paint pumpkin with it. Place tops back on the pumpkins.
5. Transfer to aluminum foil lined baking pan.
6. Bake for 40 minutes or until fork tender.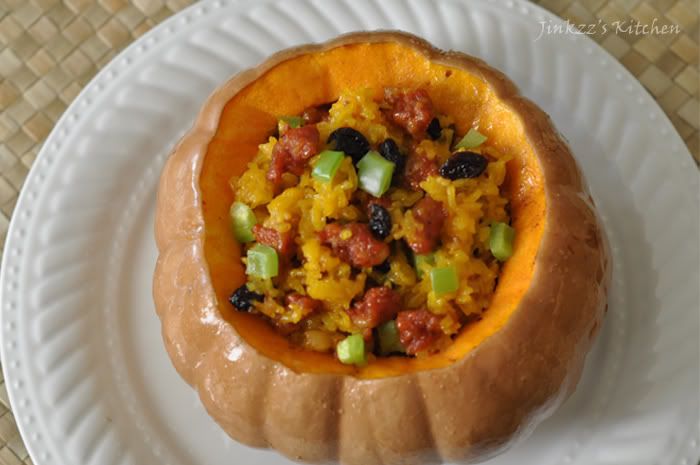 Stuffing:
1. While pumpkin is baking in the oven, prepare stuffing.
2. Place sweet rice in rice cooker. Add turmeric and water. Cook according to direction.
3. Once the water boils, mix once or twice to ensure that turmeric is dissolved. NOTE: Turmetic will give the rice a yellow color.
4. while rice is cooking, heat pan tomedium.
5. when pan is hot, add the remaining oil then saute garlic and shallots. Cook until fragrant.
6. Add longganisa or sausage of choice and saute until almost done.
NOTE:
preferably skinless but if it has casings, just remove it before sauteeing.
7. Add raisinsand about 1/4 of cup of water. Let it simmer to rehydrate raisins.
8. When water has been absorbed, add green bell pepper and cooked rice with turmeric.
9. Mix well until all ingredients is incorporated. You may add another 1/4 to 1/2 cup water if the mixture is too dry. Let cook until almost all of the fluids has been absorbed.
10. One the pumpkin is done cooking, remove it from the oven.
11. Scoop stuffing into the pumpkin cavity then return to the oven uncovered.
12. Turn the oven temperature up to 400F and cook for another 8-10 minutes then remove .
13. Transfer to a serving dish and serve warm.