This is my version of the deep fried shrimp dish that we usually get from a Chinatown resto here in LA. Normally, this recipe calls for Szechuan peppercorns but I did not have any on hand so I opted to tweak the recipe instead of going out to buy some. Taste wise, this dish is really good. The shrimp is very crunchy and crispy on the outside while succently on the inside. This dish taste really good with piping hot rice. When Ieat this dish, I usually do not use utensils. Instead, I use my hand to eat...mmmm, yummy...
I refrain from adding seasoning to the shrimp prior to deep frying it because the spicy salt will be more than enough to season it. You can devn your shrimp by making a lit along the back using a sharp knife then removing the membrame but I just totally skipped that step because I was pressed for time. When frying it, make sure that your oil's temperature remains constant by not overcrowding the pan. This will result in a crispier outcome, in my opinion. Oh, be very careful when frying or removing your shrimps as the oil will be very hot and could burn your hands. I always use a screen splatter guard (I am not even sure if that is what its called) to prevent oil from splattering all over you, your stove, and the kitchen.
Word of advice
: when handling Thai chili and kochukaro, avoid touching your face or eyes as they can cause it to sting. To me, the dish is not too spicy but if you can to cut down on the spiciness, make sure that you remove the seed from the Thai chillies or eliminate kochukaru. Bon Appetit!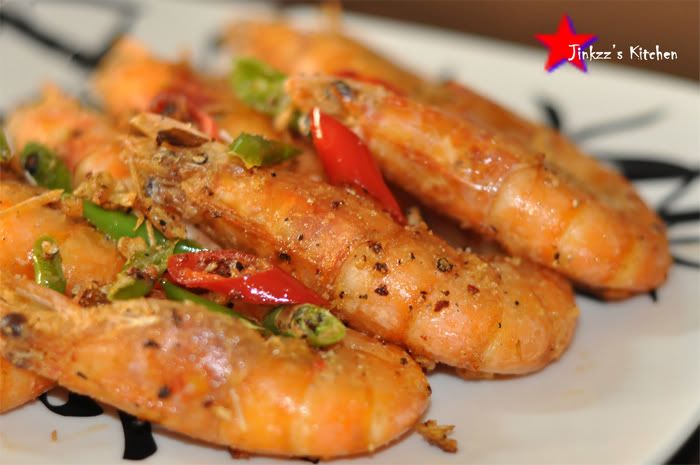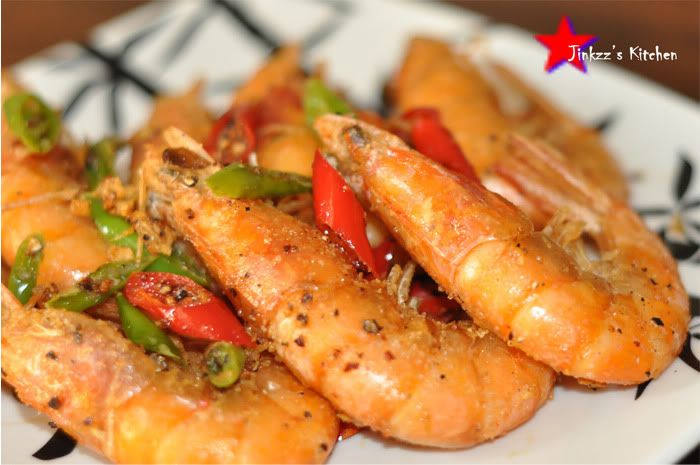 Ingredients:
1 lb jumbo shrimp
oil for frying
1/2 cup cornstarch or all-purpose flour
2 red Thai chillies, sliced thinly and diagonally
2 greem Thai chillies, sliced thinly and diagonally
1/4 tsp freshly and coarsely ground black pepper
a small pinch of Kochukaru (Korean red pepper powder)
2 cloves garlic, finely chopped
1 1/2 rsp sea salt, you can adjust depending on your taste
1. Heat oil in medium saucepan over medium high heat.
2. In a small bowl, mix sea salt, ground black pepper, and kochukaru. Set aside
3. Wash and dry shrimps thoroughly.
4. In a small bowl, place flour.
5. Dredge shrimp in flour them place in a strainer and shake off excess flour.
6. When oil is hot, add a few shrimps at a time and deep fry until it turns slightly orange. Remove from heat and drain excess oil using a strainer or colander. Repeat process untill all the shrimps has been deep fried.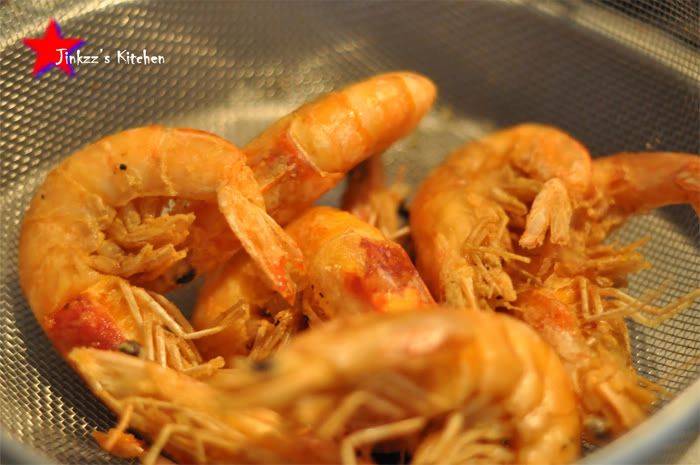 7. Heat clean sauce pan over medium heat. Ad about 1 - 2 Tbsp of oil.
8. Add garlic and saute until fragrant.
9. Add Thai chili and saute for 30 secons to 1 minute.
10. Add the salt mixture and saute a little bit. Notice that the salt will absorb almost all of the all.
11. Add fried shrimp into the mix and dry sautee to coat it with the salt mixture.
12. Immediately remove from heat, transfer to a serving platter and serve. Serve with rice if you want.