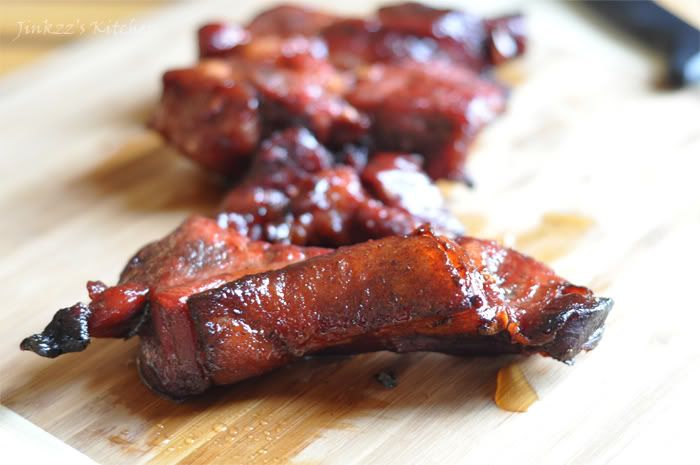 I love char siu, also known as Chinese pork barbeque, but the problem is I can't seem to find good Chinese resto that sells a good one nearby. Most of the ones that are sold at the restaurants are either too dry or taste like cardboard, not good at all. Most of the time, I have to drive all the way to Chitown in order to get good ones but that is usally a major trip for me as I always get lost coming back from there so I try to avoid going to that place if I am driving by myself. Speaking of which, I once went there and had the hardest time trying to get out. It took me around 45 minutes or more to finally find my way out. Hahaha! I have been know to get confused with direction but 45 minutes is a little extreme even for me since LA Chitown isn't that big.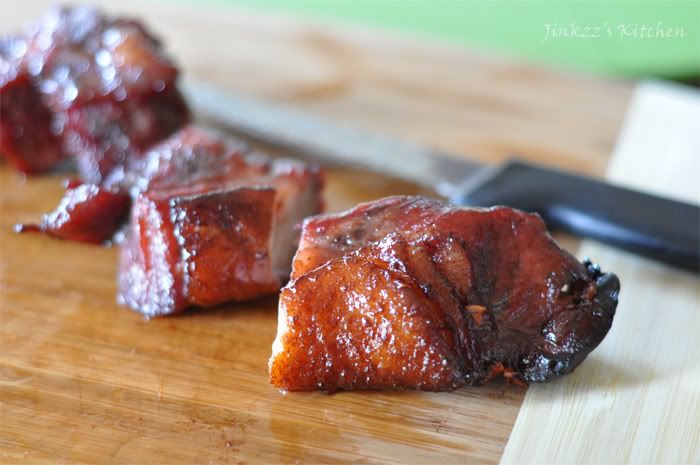 Anyways, I stumbled upon Bee's (of
Rasa Malaysia
) blog one day and found a char siu recipe. The recipe seem simple enough so I searched for similar recipes and was surprised that there was a bunch of them out there on the web. In one of those searches, I stumbled into another blog that has an interesting way of cooking char siu. The blog belongs to Jessica (of
Su Good Eats
). She hanged the meat inside the oven and cooked it that way. She called it ghetto Chinatown style which really cracked me up. I adapted my recipe from both Jaden's and Jessica's but adjusted it to my own liking. I have made this twice in two weeks already. This last one turned out better than the first one because I added less red food coloring. The first one, although it tasted really good, looked atrocious because of the all-too red appearance. Hahaha.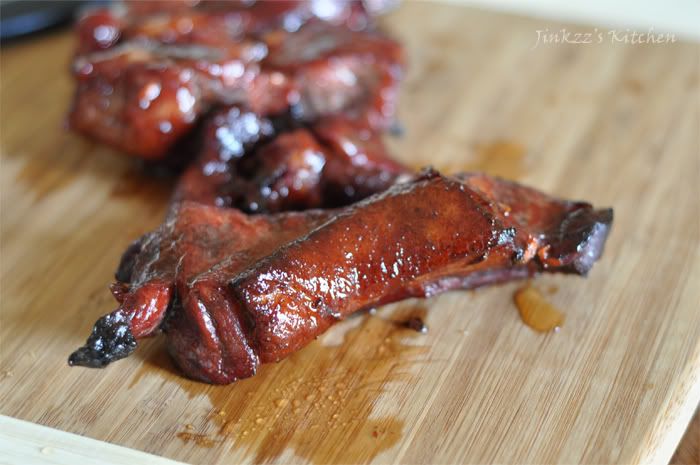 There are two ways which I was able to avoid meat from drying out, namely: Adding water "bath" at the bottom of the oven and basting half way through the roasting process. While it seems like an additional work but it will help keep your meat moist. If you have leftovers, you can wrap it in foil and place in the refrigerator. When you are ready to eat it, you can slice them and microwave for a minute or until warm. The meat stayed moist for me which was really great. You have to keep in mind though that the kind of meat that you use will also determine whether it will dry out once cooked. I try to buy meat that has a little bit of fat which is another great way to prevent the dish from drying out. If you choose a meat that's very lean, there is a great tendency that it will dry out while being roasted even if you baste and add the water "bath". One more thing, make sure that the end of the meat does not touch the water bath.
Ingredients:
2 Lbs pork butt (cut into 2 inch diameter X 4 inch length)
Marinade:
4 Tbsp honey
2 1/2 Tbsp hoisin sauce
2 1/2 Tbsp soy sauce
1 Tbsp sherry
1/4 tsp white pepper
few drops of red food coloring (optional)
1/2 tsp five spice
1/2 tsp sesame oil
3 cloves garlic, minced
To marinate:
1. Place pork in a non-metal container with lid.
2. Combine all ingredients for marinade and mix well to make sure that everything is incorporated.
3. Pour mixture over pork and make sure that all pieces are coated well.
4. Cover and place in the refrigerator to marinate for 5 or more hours turning meat half way through the marinating process.
To cook:
1. Place oven racks on the top most level.
2. Line bottom of the oven with aluminum foil.
NOTE:
this is such a lifesaver because it will catch any drippings that goes outside of the baking pan.
3. Line a large sheet pan with several layers of aluminum foil and place at the bottom of the oven.
NOTE:
lining it with several layers of aluminum foil will save you the hassle of having to scrub you sheet baking pans later.
4. Add about 2 to 3 cups of water to the sheet pan then preheat oven to 350F.
5. Meanwhile, make a hole on one end of each of the pork slices and attach either a drapery hook or meat hook to the end.
6. Once oven has reached the desired temperature, attach the hooks to the racks and roast meat by hanging it over the sheet pan. Reserve the marinade for basting. Roast for about 30 minutes.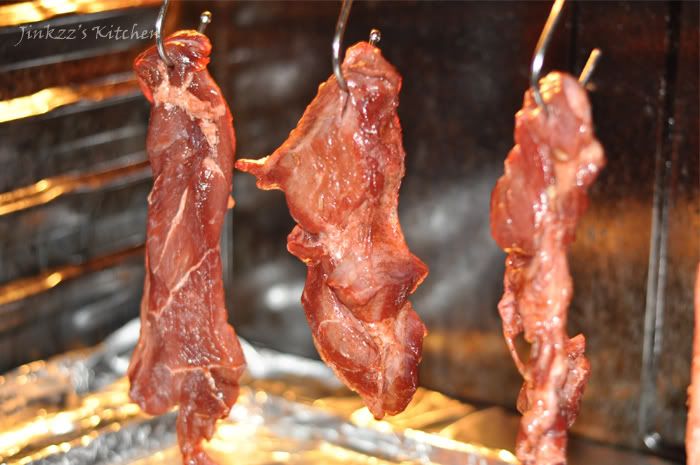 7. Remove meat slices and baste with reserve marinade.
8. Return meat slices to oven and roast for another 30 minutes.
9. At the end of the second 30 minutes, remove from oven and brush each pieves with honey.
10. Return to oven and cook for another 5 minutes.
11. Remove from oven and let it cool a little bit before slicing and serving.