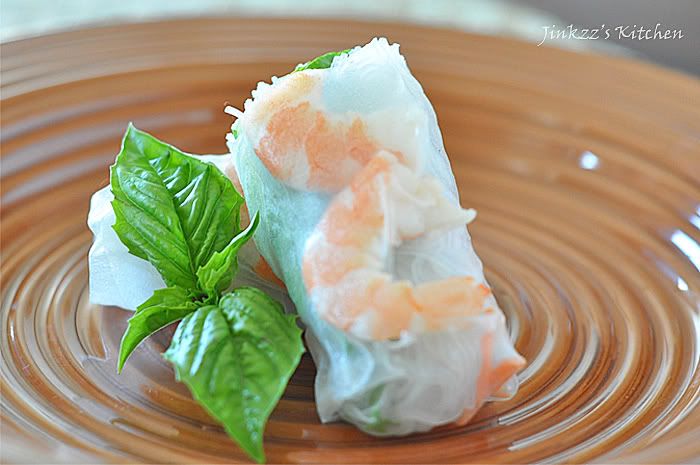 Vietnamese spring roll is something that I discovered about 10 years ago and have really fallen in love with it. It is simple and easy to make plus most of the ingredients are easily accessible. It has all the yummy goodness of a spring roll without the greasiness and added cholesterol. It is also like a handheld salad which you can take with you and eat while on the go. To me, the spring roll itself is bland because, with the exception of the herbs, there is nothing that has been added in terms of seasoning. The secret though is in the sauce. It can either be dipped in peanut based dip or a fish sauce based dip. In this recipe, I served it with the fish sauce based dip.
Handling the rice paper wrapper can be tricky especially for those who are using it for the first time. They easily tear and quite hard to handle when they are very wet so the trick is to just get it wet enough that it becomes slightly pliable but still retains it shape. What I do is just dip it in water for a second or two then place it in my work surface area then let the rice paper wrapper soak up some of the excess fluid which takes about 30 seconds then start adding the filling. When adding the filling, make sure not to overfill as it will be hard to handle when rolling the rice paper wrapper.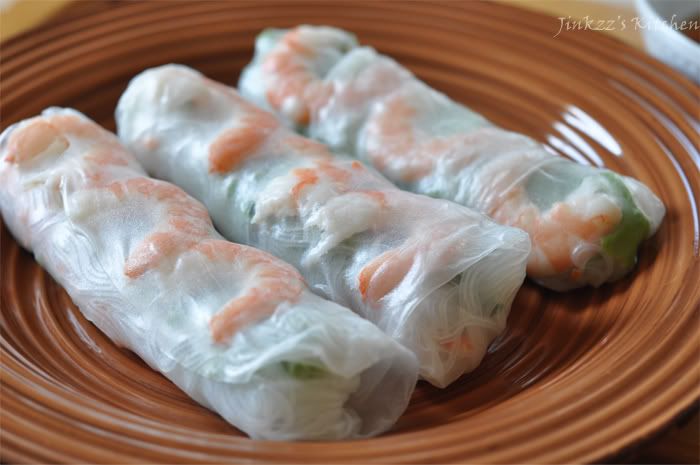 INgredients:
12 jumbo shrimps, shelled and deveined
3-4 oz vermicelli (bean threads)
1 large carrot, peeled then julienned
rice paper wrapper (Banh Trang)
Lettuce leaves, washed and dried then cut into half (lengthwise) with the hard membrane removes
handful of mint, chopped coarsely
handful of cilantro, chopped coarsely
1. Boil jumbo shrimp in a small pan of water until it turns orange. Remove and cool.
2. In the same pan where you boil the shrimp, add the vermicelli and boil for 2-3 minutes or until it turns soft. Rinse in cool running water then drain.
3. When shrimp is cool enough to handle, slice in half (lengthwise)
4. To assemble: Take a piece of rice paper wrapper and dip in a pan of water for a second or two.
5. Place the rice paper in a flat work surface and let it rest for 30 seconds.
6. Take a piec of the lettuce then top with a small handful of vermicelli, add carrots, mint, and cilantro. Add three slices of shrimp arrange side by side.
7. To wrap: fold the sides inward to enclose the filling then take the end closest to you and start rolling until you reach the end. NOTE: Make sure you roll as tight as possible without causing the wrapper to tear.
8. Serve with prepared dip.
Vietnamese Dipping Sauce (Nuoc Mam Cham)
Adapted from
here
Ingredients:
1 1/2 cups water
6 Tbsp fish sauce
5 Tbsp fresh lime juice
5 tsp rice vinegar
6 Tbsp sugar
1 chopped fresh red chili, seeded and choped finely
3 cloves of finely chopped garlic
1. COmbine water, sugar, and vinegar into a saucepan and bring to a boil.
2. Remove from heat and cool.
3. Add fish sauce, lime, chili, and garlic then mix thoroughly.
4. Serve with fresh Vietnamese spring roll