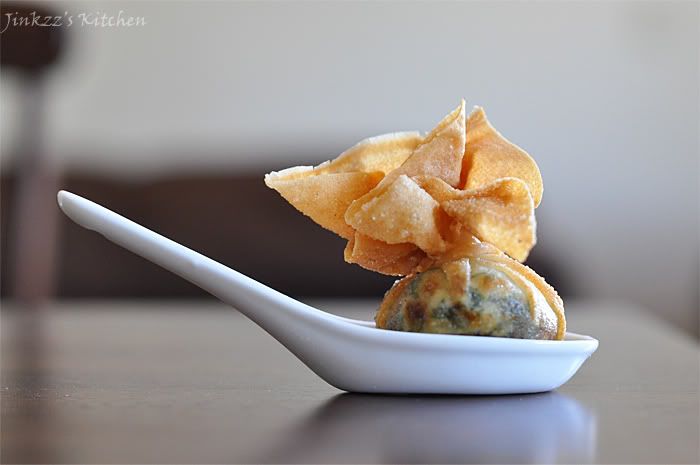 I have been experiencing a publishing backlog lately because my ability to cook and take pictures is a lot faster than my ability to post and publish them. I really do love to cook and enjoy taking pictures just a little bit more than before. My problem is that sometimes I get too lazy to start typing. Other times, I just don't know what to say. Not a problem though as I am positive that I will be able to get them all posted in due time :)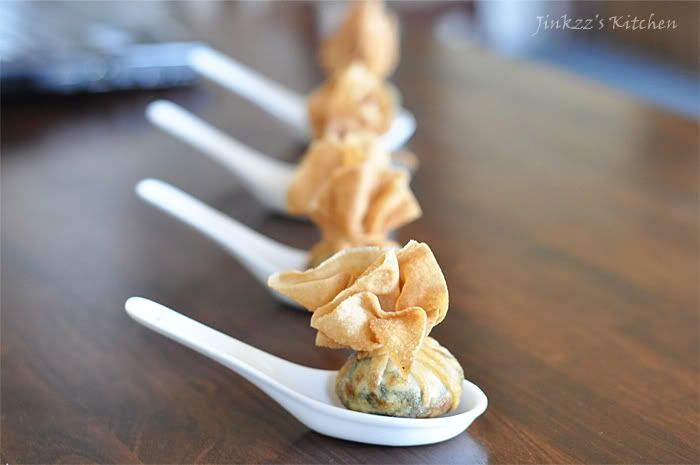 Before I talk about the dish that I have created today, I have to say thank you to everyone who came and visited my blog. I have to say that tastespotting, foodbuzz, and foodgawker has done wonders to increasing the traffic in my blog. And please do leave me a comment as I always welcome and enjoy reading them.
The dish that I created today is an appetizer that is so easy to make. I used four main ingredients plus pepper and salt to create this dish. The filling can be easily substituted with whatever is readily available. The filling can also be changed into a sweet filling to make it a dessert instead of an appetizer. I would say that the possibility is endless. Today though I used frozen spinach, cream cheese, and ricotta cheese as filling. Make sure that you thaw the frozen spinach well ahead of time to prevent any delay. I thawed mine in the refrigerator overnight and then used chesse cloth to squeeze it dry. Making sure that all the fluids has been removed is important because you do not want a soggy pouch when fried plus the water will also make frying difficult as it will cause oil to splatter.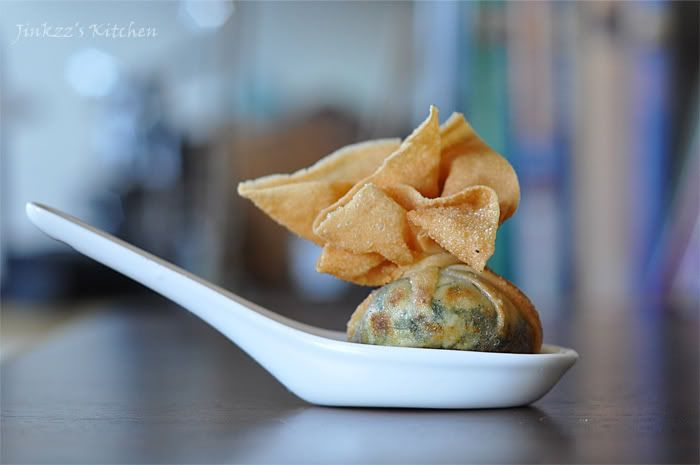 Another important thing to remember when using wonton or spring roll wrappers is that they dry out easily so make sure that you cover them in damp (not soaking wet) cloth to prevent them from drying out and turning brittle. To help the pouch retain its shape, I let it air dry a little bit after I wrapped the filling so that it becomes stiff thus helping it hold the shape better. These pouches can be kept in the freezer and then taken out when needed. I usually don't thaw them out before frying so they just go from the freezer to the hot oil. You need to be careful though as oil may splatter when it comes in contact with the frozen pouches. Also, use splatter guard to prevent oil from splattering all over you and your kitchen.
Ingredients:
1 box (10 oz) Frozen chopped spinach, thawed and squeezed dry
4 oz cream cheese, softened
1/2 cup ricotta cheese
Large size wonton wrappers
oil for frying
sea salt and freshly ground pepper, to taste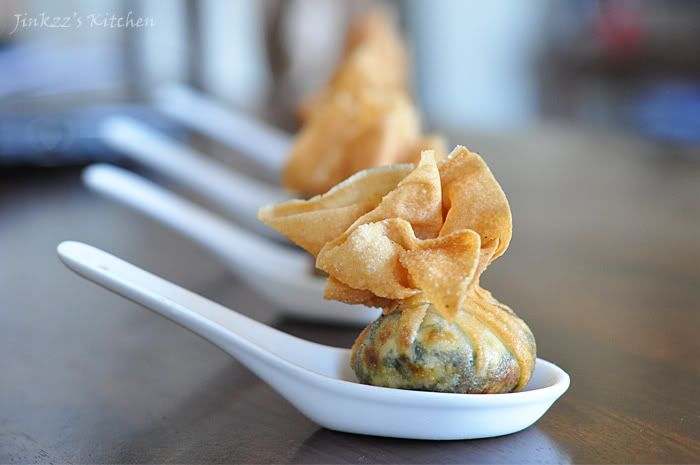 1. In a bowl, placed squeeze-dried spinach. Fluff them up to loosen.
2. Add cream cheese and ricotta cheese. Mix well.
3. Season with salt and pepper according to your taste.
4.
To wrap:
Take a teaspoon full of the filling and place it in the middle of the wonton wrappers. Gather the corners to create a pouch. Take small stips of the cut wonton and use it to tie the corners together. Be careful not to break the tie.
5. Do this until all the filling has been used.
6. Heat oil in a pan. When oil is hot, place a few of the pouch and fry until golden in color.
NOTE:
Fry only a few at a time so as not to lower the oil temperature and not to overcrwod the pan.
7. Transfer to a paper towel lined plate to drain excess oil.
8. Transfer to a serving platter and serve warm.