Arroz valenciana is one of the many dishes that is popular in the Philippines, particularly in Negros Occidental where my family is from. It is almost always present in gatherings. The dish uses glutinous or sweet rice, turmeric powder, pork, pork liver, chicken, peas, raisins, and bell pepper.
The process of cooking arroz valenciana can be intricate and laborious if you take the long way since you have to make sure that the rice is cooked well. This meant stirring it constantly to make sure that it is evenly cooked and to prevent the bottom from getting burned. That is just too much work for me so I used to stay away from making this dish. When I first came to the States (which was ages ago), I stayed with my aunt in New Jersey and that's where I learned how to make arroz valenciana the easy way. The first secret is cooking the rice in a rice cooker. The second is using chicken broth instead of water to cook the rice which eliminates having to season or making sure that the dish is evenly seasoned. The third is to boil the meat separate then slicing it. The last one can be done ahead of time and can be kept in the refrigerator until needed.
Ingredients:
3-4 cups glutinous (sweet) rice
chicken broth (enough to cook the rice and then some for cooking the rest of the ingredients)
1/4 lb pork, sliced
1/2 chicken breast, boiled and hand shredded
1/4 lb pork liver, sliced
1/4 lb shrimp, deveined and shelled
1/2 cup frozen peas
1/4 cup raisins
1 small onion, chopped
3 cloves garlic, chopped
1 small bell pepper, sliced thinly
sea salt and pepper, to taste
1 - 2 Tbsp oil for sauteeing
2 tsp turmeric powder
2 hard bolied eggs, sliced into wedges (optional)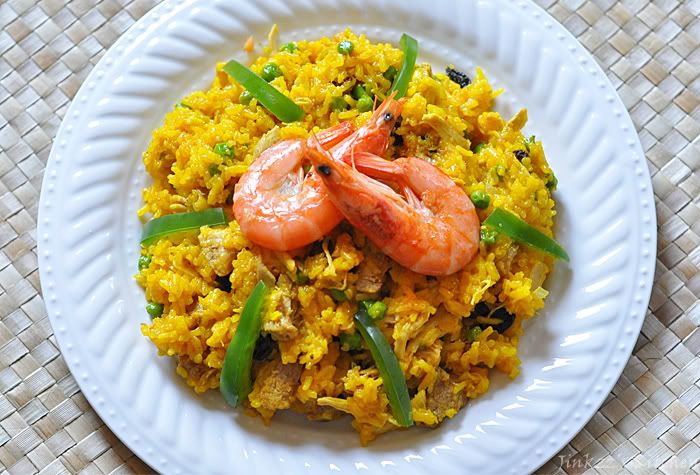 1. Place rice and turmeric powder in a rice cooker. Add enough chicken broth to cook the rice. Stir half way through the cooking process to make sure that turmeric is incorporated into the rice evenly.
2. Boil chicken breast, pork, pork liver in a pan until tender. Let it cool and then slice/ shred.
3. Heat oil in a large pan. Addonion and garlic and cook until fragrant and translucent.
4. Add shrimp and saute until it turns orange. Add sliced/shredded meat and saute until heated through.
5. Add about 1 cup of chicken broth, peas, and raisin. Simmer until raisins has plumped up and peas is heated through. Don't worry if there is a little too much liquid because the rice will soak it up.
6. Add bell pepper and cooked rice mixture. Mix well.
7. Adjust seasoning as needed and according to taste.
8. Transfer to a serving platter and decorate with shrimps and/or hard boiled egg wedges. Serve warm.
NOTE: You can leave the shrimp shells on if you like. If you leave out the liver if you want.