The avocado that I bought has gently ripened so I decided to make avocado mousse. This is quite simple and requires just four ingredients. The outcome though is great because it was light and delicious. The lightness is due to the incorporation of whipped cream into the avocado mixture. If you do not have a food processor, You can mash together all the ingredients (except cream) using fork until it reaches a pureed consistency. Make sure though that the sugar has dissolved well.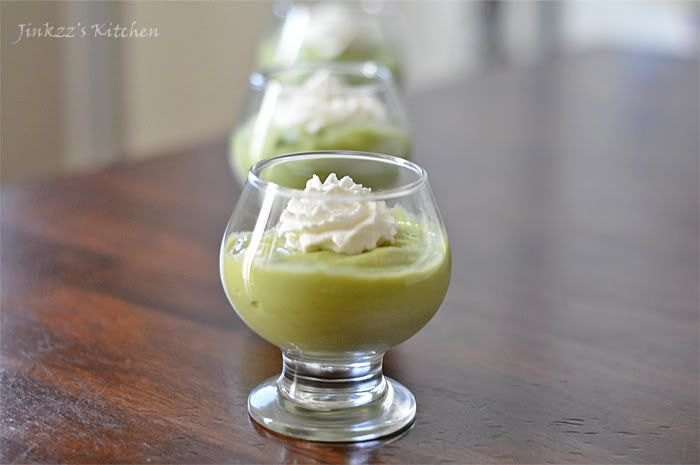 Avocado is one of those fruits that is common in the Philippines though we have several different varieties that are usually bigger in size compared to the ones that are found here in the States. We have a sticky variety whose peel remains green even though it is fully ripe. That one is not very common though even in the Philippine but the taste is really nice. When I was young, we used to take ripened avocado and mash it with forks together with condensed milk and then place it in the freezer to let it harden a little. Yummy...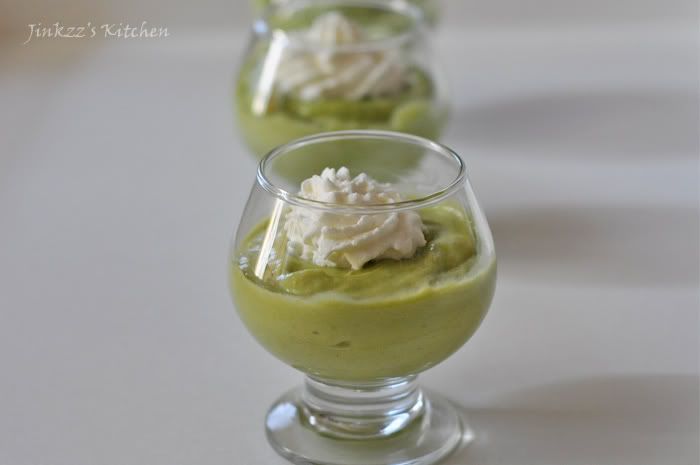 Up until the latter part of last year, I have not bought any avocado since I moved here int eh States. I've had avocado as a guacamole which we buy but never have made any or used avocado myself for nearly 17 years. I do not know why but the avocado sold in the supermarket just looked weird to me. I somehow thought it would taste different than what I have remembered. Then I found an avocado salad recipe which I really liked so I bought some ripe avocado. I laughed because they just look so tiny compared to the ones we have in the Philippines. When made and tasted the salad, it reminded me of how great avocado taste. Since that time, I have been experimenting on different avocado dishes and this is one of the avocado dishes that I really liked. Silly me...
Ingredients:
2 Ripe avocado
1/2 cup evaporated milk
sugar, according to desired sweetness
1/2 cup heavy cream
1. Cut avocado in half, remove stone and scrape flesh off the peel.
2. Place avocado in a food processor then add evaporated milk and sugar.
3. Process until smooth then transfer to a bowl and set aside.
4. Whip cream until it forms soft peaks.
5. Gently fold whipped cream into the avocado mixture and transfer to individual serving dish.
6. Refrigerate until well chilled before serving.
7. Top with whipped cream, if desired.