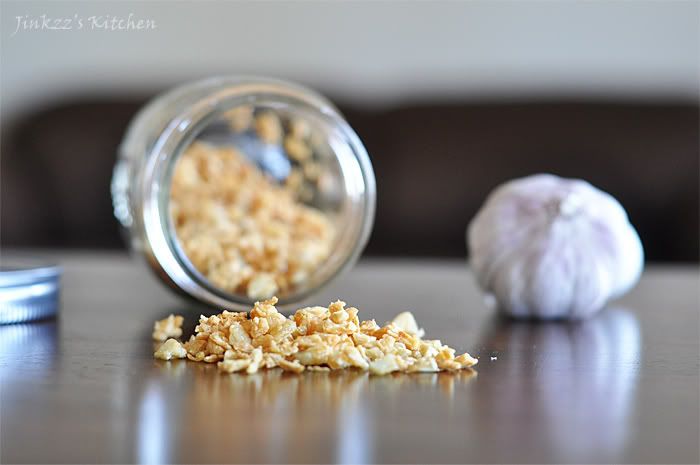 Fried garlic is one of the toppings that is frequently used in Filipino dishes...at least from the place that my family was from. We use it as topping for fried rice as well as soups and porridge. The smell is heavenly and permeates the whole house. It gives an impression of a lived-in, warm house. It also conjures up an image of a loving family gather together to share a meal prepared by a loving mom :) Ah, it makes me miss my mom and wish she is here with me right now but I am sure that she is happily looking down from up above.
This is a simple addition to any dish which gives it a nice extra flavor and dimension. It only takes a couple of ingredients and few minutes cooking time. You have to be careful though not to burn them as they will taste bitter and not fit to eat. I find that gently frying them works in making sure that they don't burn and stay crispy longer. They are actually readily available in the Filipino store but I like frying my own since they do not really take that much time and effort. I usually use a few bulbs of garlic at a time and them place them in airtight container to keep them crispy and ready for use anytime I need them. To save time, you can use a food processor to chop the garlic but make sure that they are chunky instead of finely chopped. I prefer to chop them by hand though.
Ingredients:
4 or more bulbs of garlic, peeled and chopped
1/2 cup oil
1. Heat saucepan over medium heat. Add oil and heat it gently.
2. When oil is moderately hot, add garlic and fry them until they turn golden in color. Make sure you stir them frequently while frying to prevent burning.
3. Remove from heat and place on a paper towel lined plate to absorb excess oil.
4. When they have cool down, transfer to an airtight container to store.