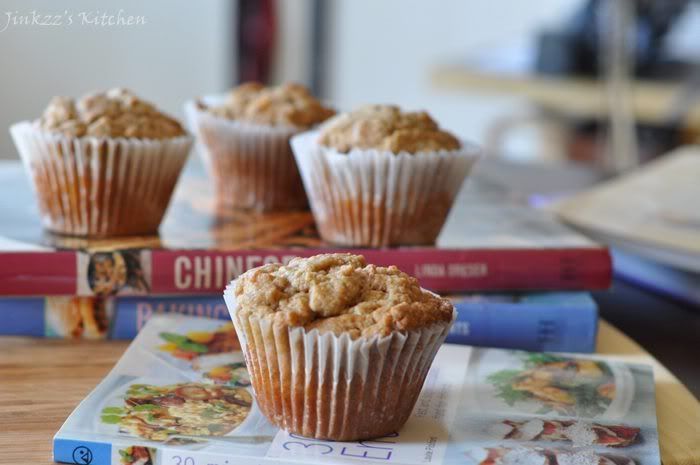 I dreamt last night that I made some muffin and surprisingly (or, not surprisingly), I woke up hungry. My sight was set on some piping hot muffins and tea so I baked up a bunch. I think I made a little too much (a dozen) so I gave my next-door neighbor half a dozen which. The muffins were good and easy to make that it can be made in less thanan hour including the preparation.
The mistake that a lot of people make when making muffins is that they overmix the ingredients which results in a dry and hard muffin. To make sure that it remains moist and not dry, you only need to mix it just enough to moisten the dry ingredients. Otherwise, you may have to dump that batch into the garbage. I know because I have made that same mistake in the past many times than I care to count on my fingers and toes.
Today I made cinnamon apple streusel muffins because I bought tons of apple from whenI went to the farmer's market the other day. I love gala apple so that's what I used for this recipe. I think gala is the best tasting apple there is and beats red delicious in the taste and appearance.
Ingredients:
Streusel topping:
1/2 cup packed brown sugar
1/2 cup all-purpose flour
1/2 stick of butter, softened
1. Mix all ingredients for streusel using a fork until it resembles a cornmeal consistency. Set aside.
Muffin:
2 cups all-purpose flour
1/2 cups + 2 Tbsp sugar
1 Tbsp baking powder
a pinch of salt
2 tsp vanilla extract
1 cup milk
1 large egg, slightly beaten
1/2 stick of butter, melted
1 cup peeled and diced apple
2 tsp powdered cinnamon
1. Preheat oven to 400F
2. In a small container, mix apple with 2 Tbsp sugar and 1/4 tsp cinnamon. Let it stand for 10-15 minutes.
3. Microwave butter until melted. Let it cool.
4. In a large bowl, sift together flour, baking powder, and salt.
5. In another large bowl, combine beaten egg, sugar, milk, cinnamon, and vanilla. Mix until incorporated.
6. Slowly drizzle butter and mix well.
7. Fold in the apple mixture and mix well.
8. Add liquid ingredients to dry ingredients and mix just enough to moisten the dry ingredients. Note: It will be visible lumpy but it is okay.
9. Pour into paper lined muffin pans, top with streusel mixture, and bake for 20 minutes or until a toothpick inserted in the center comes out clean.
10. Remove from oven, let it cool slightly and serve.