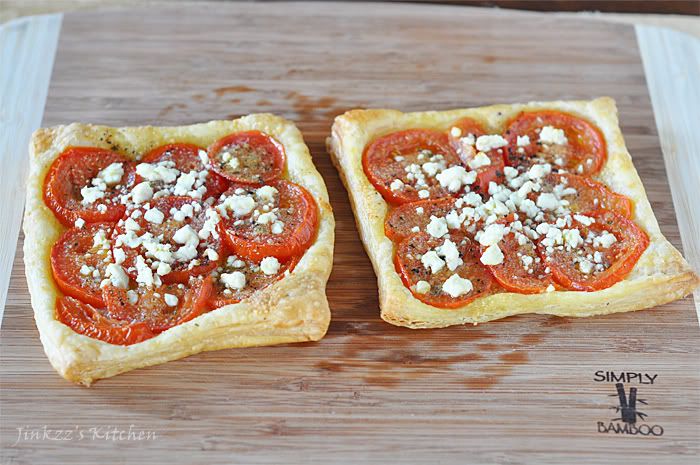 Even avid cooks have their off days. Today is one of those days for me. I just did not want feel like slaving over the kitchen to make a meal as I have been feeling rather emotional these past few days. This recipe is perfect for days like today.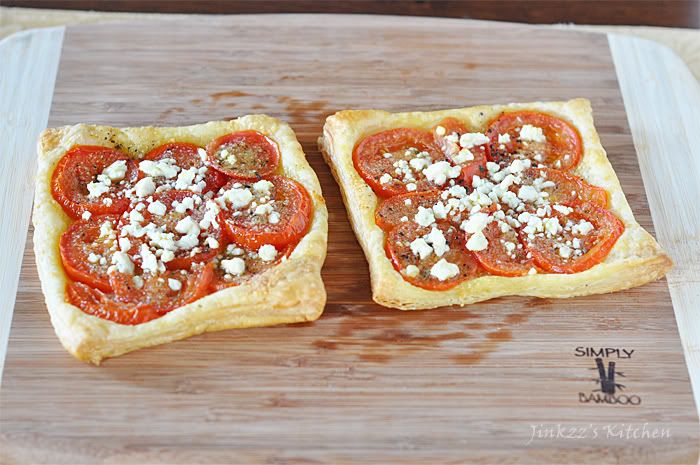 This is an easy to make tart which can be done in less than 30 minutes from start to finish. The secret is using store bought puff pastry as the tart shell which takes most of the work. The possibility for topping is dependent on the cook's imagination. You can basically top it with anything that you desire. I chose tomato because I really like them (that is kinda strange coming from me since I really hated eating tomato for the longest time. I also used two different kind of cheeses - parmigiano reggiano and feta. I baked them in the oven for about 20 minutes then they are ready to eat.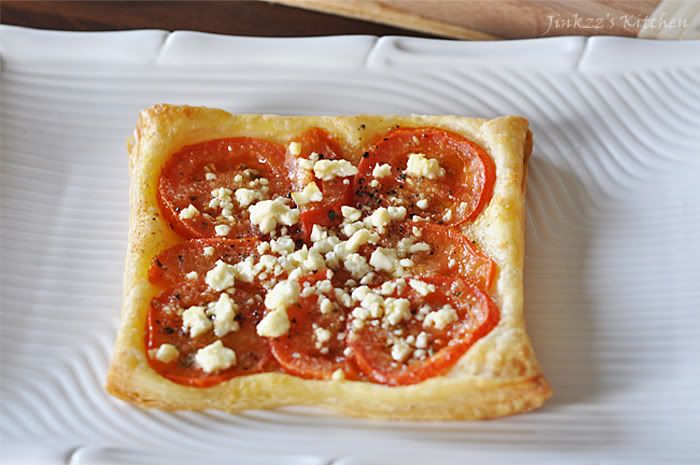 Ingredients:
1 sheet store bought puff pastry
roma tomatoes, cut into 1/4 inch thickness
feta cheese
grated parmigiano reggiano
2-3 Tbsp extra virgin olive oil
1 tsp powdered garlic
1/2 tsp dried parsley
salt and pepper to taste
1. Preheat oven to 375F.
2. NOTE: Make sure you thaw puff pastry in the refrigerator overnight. When puff pastry is ready, roll out in a floured surface are. Cut into 6 equal sized rectangle.
3. Using a rolling pin, flatten the rectangle puff pastry into about 1/4 to 1/8 inch thickness.
4. Using a fork, prick puff pastry all over. Make sure you leave a small border on the edges.
5. Using a pastry brush, brush puff pastry with olive oil.
6. Sprinkle parmesan cheese then arrange tomato slices on top.
7. Brush tomatoes with olive oil then sprikle powdered garlic, dried parsley, salt and pepper.
8. Top with feta cheese.
9. Bake in oven for 18 to 20 minutes or until edges turn golden in color. Remove from oven and serve.