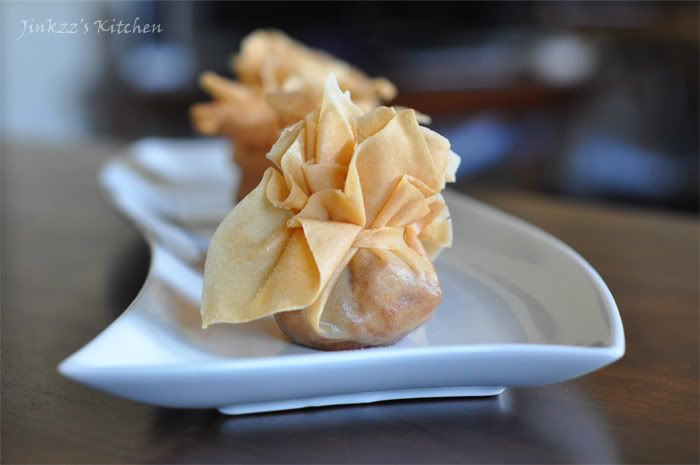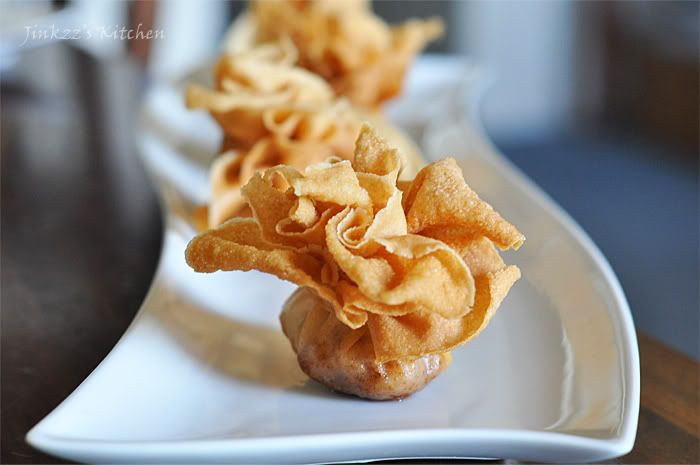 This is a variation of the spinach pouch that I posted a couple of days ago. This one is a sweet version which can either be served as a snack or dessert. I used apple, pear, and peach for this recipe which I sprinkled with cinnamon and brown sugar then wrapped in a wonton wrapper.
The fruits will produce liquid when sprinkled with sugar and makes it a little harder to wrap in wonton wrapper as it will tear easily. The trick that I used is to let the fruit and sugar/cinnamon mixture stand for about 15 to 20 minutes then I drained and discarded the liquid. Even after I drained the liquid, I noticed that the bottom of my pouches was becoming soaked with the liquid so I wrapped the pouches again in another wonton wrapper which seemed to do the trick. I also placed the pouches in the freezer for about 20 minutes just to harden any fluid that may have formed.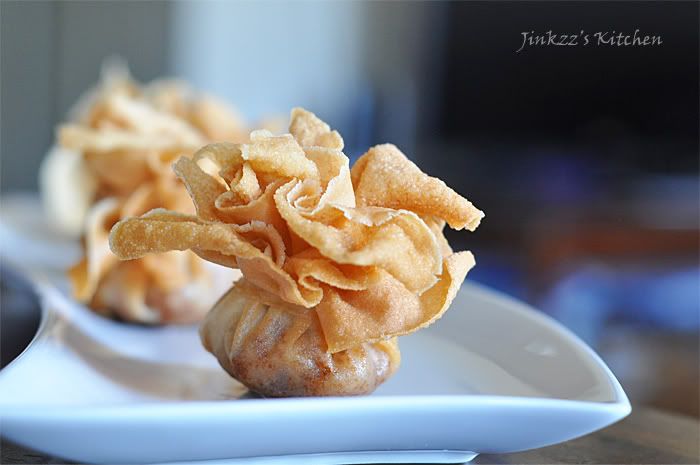 When frying these pouches, the temperature of the oil is very important. It has to be hot enough that the frying and browning of the wonton wrapper will only take a short time as this will help harden and make the wrapper crispy. Make sure not to overcrowd the pan so as not to lower the oil's temperature Be careful though when frying in hot oil as it may splatter and burn you. As always, use splatter guard to prevent the oil from splattering all over you and your kitchen.
Although the wonton wrapper stays crisp for a while once fried, it is better to serve these warm as the taste is not as good when it has cooled. The possibility of the bottom turning soggy is also higher the longer the pouches sits after it has been fried. I served these with warm cinnamon sauce. Too bad I did not have any vanilla ice cream...I think this would also go well with it.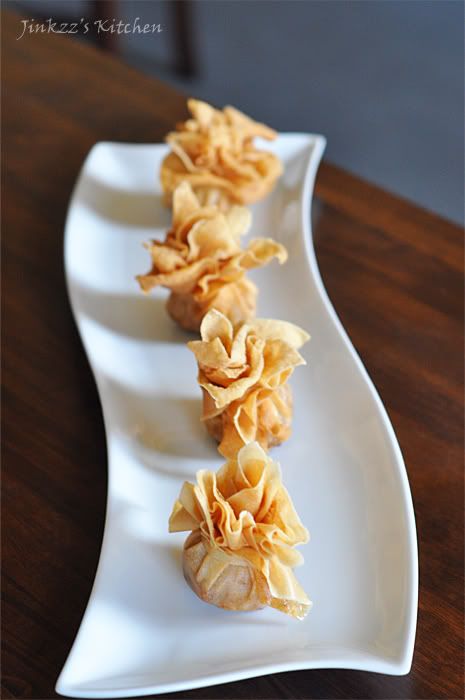 Ingredients:
1 apple - peeled, cored, and diced finely
1 peach - peeled,cored, and diced finely
1 pear - peeled, cored, and diced finely
2 Tbsp brown sugar (adjust according to desired sweetness)
1/2 tsp cinnamon powder
wonton wrappers
oil for frying
1. 1 a large bowl, mix apple, peach, pear, cinnamon and sugar. Let is stand for 15 to 20 minutes
2. Drain any fluid that has accumulated.
3. Take a tablespoon full of filling and place in the middle of a large wonton wrapper. Gather the edges to form a pouch then twist slightly adn pinch to seal.
4. Take another wonton wrapper and repeat the same procedure. Use small strip of wonton wrapper to tie and secure.
5. To fry: Heat oil over medium high heat. Fry 3-4 at a time, making sure not to overcrowd the pan. Fry until golden in color.
6. Drain excess oil in a paper towel lined plate.
7. Transfer to a serving platter and serve with warm cinnamon sauce.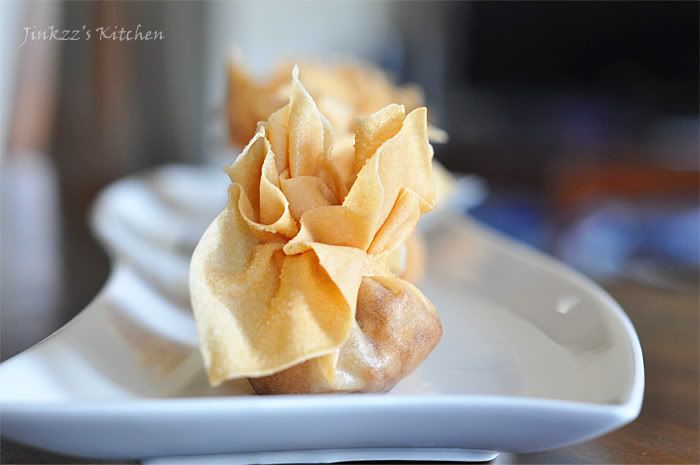 Warm Cinnamon Sauce
Ingredients:
1/4 cup sugar
2 Tbsp flour
1 cup water
2 Tbsp lemon juice
1 Tbsp butter
1 tsp cinnamon
1/4 tsp nutmeg
1/4 tsp allspice
1. Heat saucepan over medium low heat. Combine sugar, flour, water, and lemon juice. Mix until sugar and flour is dissolved.
2. Continue stirring and cook until it thickens.
3. Add butter, cinnamon, allspice, and nutmeg. Mix until dissolved and well incormporated.
4. Strain mixture to remove undissolved particles.
5. Serve warm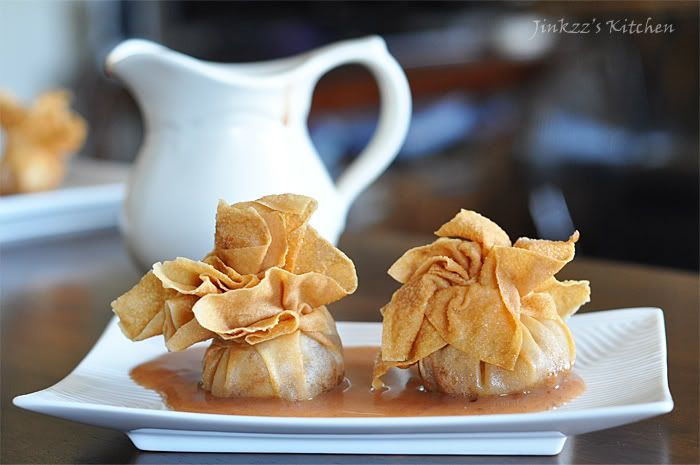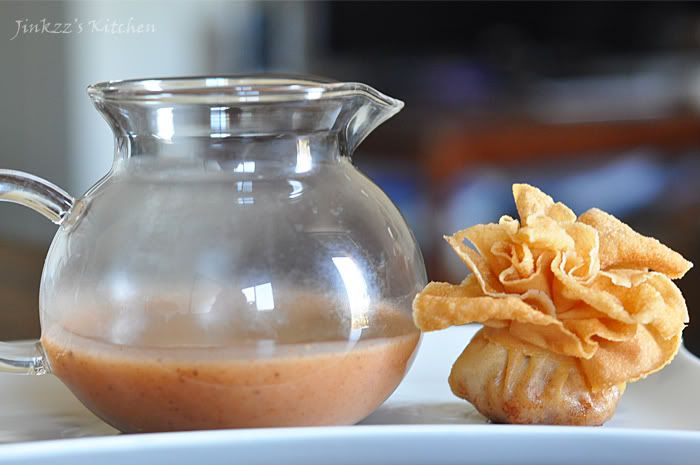 Sauce recipe adapted from
here