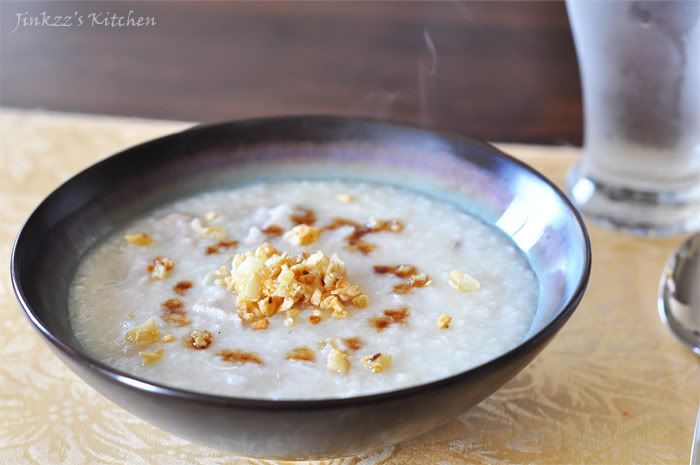 I am feeling a little down today so I made some arroz caldo to help lift my mood up a little bit. Arroz caldo (rice porridge) is the Filipino equivalent to chicken noodle soup. This dish is usually served to someone who is sick but also makes for a light meal or snack. This is the quintessential Filipino comfort food. Eating this dish just reminds me of home, family, of rainy days...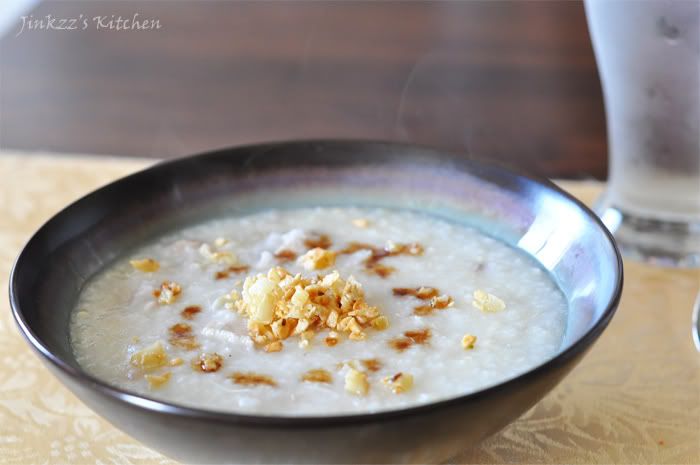 Arroz caldo is made by boiling rice until it becomes soft and thick. Addition includes eggs, chicken, garlic, onion, and ginger. It is seasoned with salt, pepper, and a little soy sauce. This dish is served warm with toppings such as fragrant fried garlic, a few drops of knorr liquid seasoning, and chopped green onions.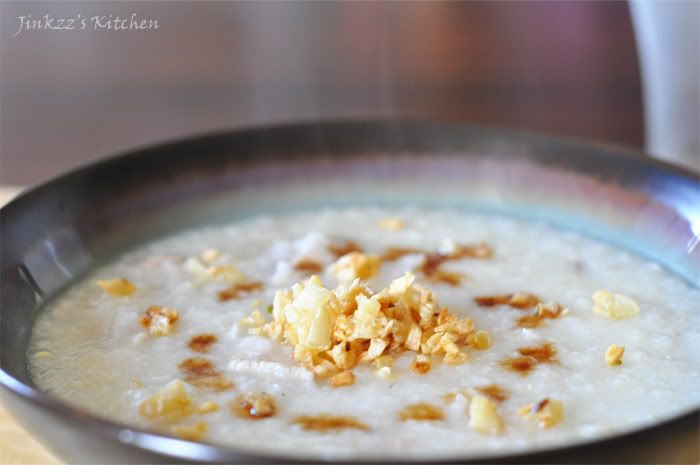 Arroz caldo is perfect for rainy days and fall because it is served warm. Aside from that, it also invokes warm memories of the not-so-distant past for me. It also gives me warmth and comfort when things are not going the way I want them to go...
Ingredients:
1 cup uncooked jasmine rice
1/2 lb chicken, cut into 1/2 inch cubes
2 inches ginger, peeled and sliced thinly
1 small onion, chopped
3 cloves garlic, chopped finely
1 Tbsp soy sauce
sea salt and freshly ground pepper
1 egg, beaten slightly
6 cups water
oil for sauteeing
Topping (optional)
sliced hard-boiled egg
crispy fried garlic
a few drops of knorr liquid seasoning or soy sauce
chopped green onions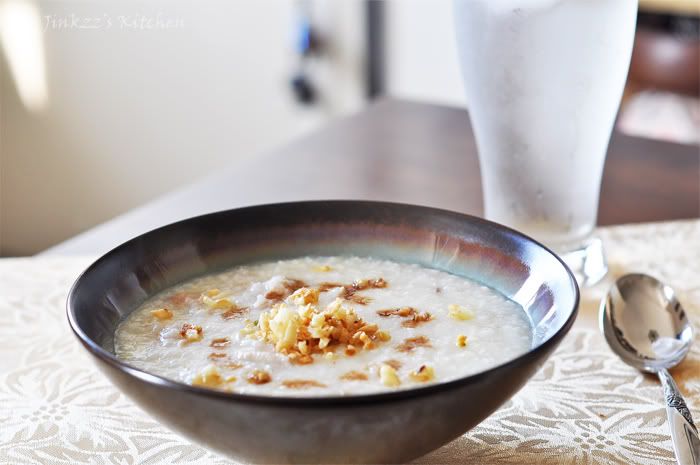 1. Heat pan over medium heat then add oil.
2. Add ginger garlic, and onions and saute until fragrant and translucent.
3. Add chicken and saute until brownish in color.
4. Add rice and continue to saute for about 3-4 minutes
5. Add water and bring to a boil then simmer until rice is soft and chicken is cooked. If needed, add more water. Stir occasionally to prevent bottom from burning.
6. Season with soy sauce, salt, and pepper according to taste.
7. Add beaten eggs while stirring mixture to distribute eggs evenlly and cook for another minute or two more.
8. Remove from heat and transfer to serving dish.
9. Top with toppings, if desired.