Rhubarb... up until recently,I didn't know that rhubarb is categorically a fruit and not a vegetable. I only learned about it when I picked up a Donna Hay cookbook with information on the different fruits. Its funny because itshure does look more like a vegetable than a fruit...hehehe... apparently a New York court rulled that it is a fruit in 1940s. The leaves are toxic but the stalk is a good ingredient for pies and desserts and of course, juice.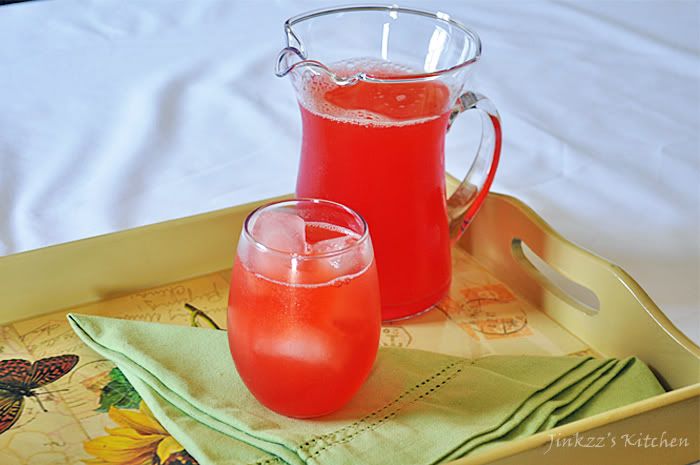 Here's another interesting fact about rhubarb: it is considered a laxative by the Chinese...hmmm, no wonder...hahaha...okay,let's not go there...
Fresh, raw rhubarb has a tart taste but the addition of sugar when cooking eliminates the tarty taste. Besides pies, it can also be made into a jam, preserves, or dried fruit. It contains stilbenoid compound that helps in lowering the blood sugar si it is good for diabetics...I guess as long as you do not add too much sugar or use sugar substitute.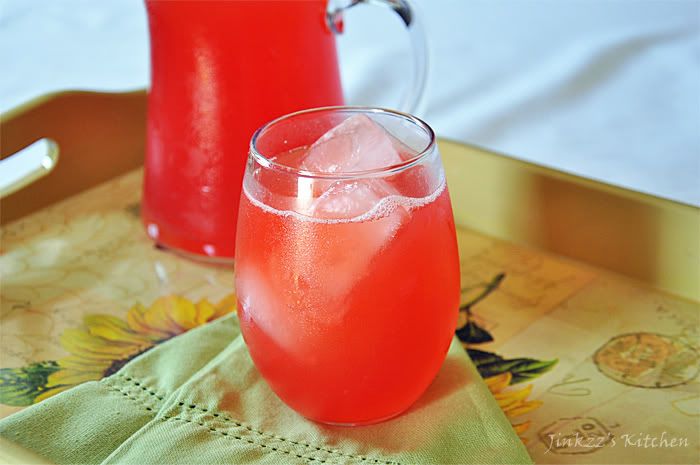 I sliced the rhubarb into a half and inch to an inch in size and boil it in water. I was going to boil sugar with it but changed my mind at the last minute since I was still going to add strawberries which are juicy and sweet so I wasn't sure if they were going to be too sweet so I opted to add sugar later after the strawberries has steeped in the boiled rhubard and water. Once the water and rhubarb mixture has boiled for about a couple of minutes, remove it from heat and add crushed strawberries. Let it steep until it cools down then strain the fruits from the juice and refrigerate. Serve it over a glass of ice for a refreshing beverage.
Ingredients:
2 - 3 stalks of rhubarb, sliced into about 1/2 to 1 inch diameter
sugar, to taste
1 lb strawberries - de-stemmed, hulled and crushed
6 glasses of water
1. Place water and rhubarb in a sauce and bring to a boil over medium heat. After it boils, remove from heat and stir in crushed straberries
3. Let it steep for about 30 minutes or until it cools down.
4. Strain the fruits from the juice using a strainer. Add sugar according to taste.
5. Refrigerate for a few hours. Serve over a glass of ice.