Summer! The only thing I like about it is that it brings with it all the wonderful fruits that I like. One of those fruits is mango... something that is abundant in the Philippines. Growing up, I do not remember doing much with mangoes in terms of using it in dishes. My mom would occasionally use it as an ingredient for agogo ... hehehe not a-gogo dancers but a homemade frozen snack wrapped in a small plastic container made up of milk, fruits, sugar, and water.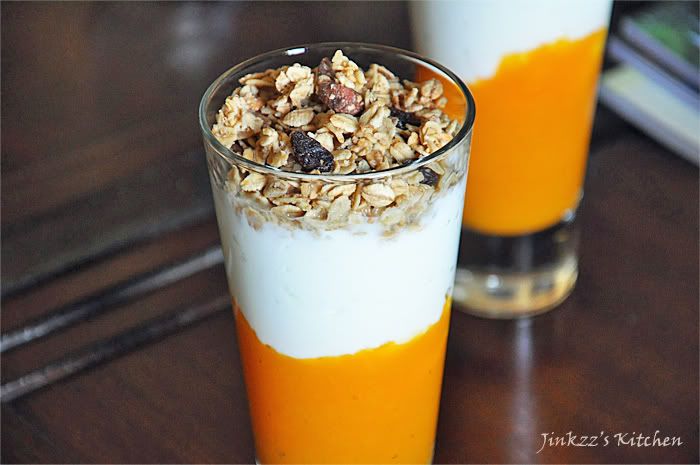 ... back to mangoes, we usually just eat it raw, either ripe or unripe. For ripe ones, we just peel and eat. Of course, you have to discard the pit...hehehe. For unripe mangoes, we peel it then eat it with salt and soy sauce or with bagoong (fermented shrimp paste)...so delish,
Living in Southern California, I am thankful that we get a lot of tropical fruits such as mango, papaya, buko (young coconut fruit), and rambutan (occasionally)....even at the regular grocery stores, if you're lucky.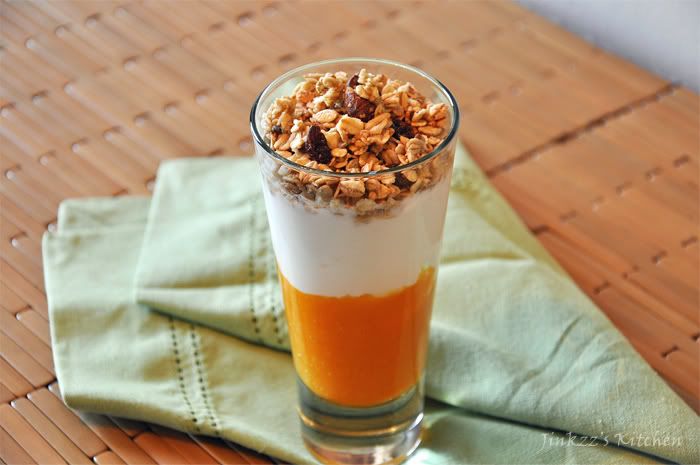 Making this dish is quite simple since the only hard part is peeling, slicing, and throwing the mango flesh into the blender to puree it. The rest is just layering the other ingredients. Depending on how sweet the mango is, you can opt to add sugar or not. I didn't add any on mine since it is sweet enough. I also puree the fruit since it was ripe and soft without adding any water. The result is thick and concentrated just like I wanted.
Both the yogurt and granola were bought from WholeFoods the other day. For yogurt, you can use anything that you prefer- part skim, low fat, non-fat, regular- just make sure that it is plain (or, at least I prefer it that way) to prevent it from competing with the flavor of the mango.
This recipe is great for breakfast and can even be prepared in advance for those mornings when you are in a rush to leave the house. You can prepare the dish in an airtight container that's easy to transport by placing a layer of mango puree at the bottom then top with a layer of yogurt. I'd leave adding the granola until the following day though since I am not sure how it will taste after it has been in the refrigerator overnight. I prefer mine crunchy, not soggy.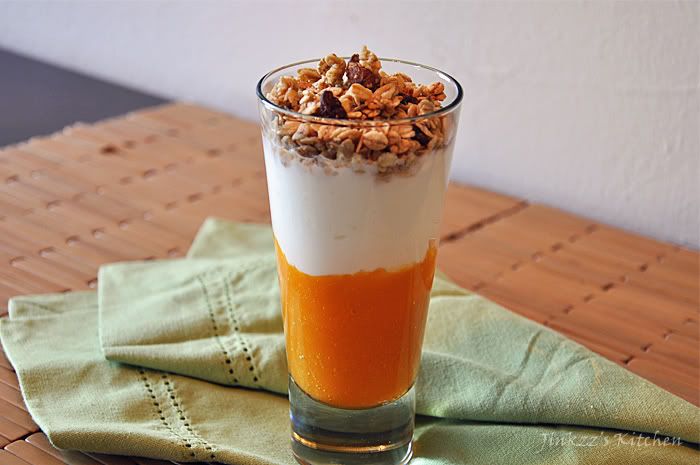 This can be a cheaper and healthier alternative to those parfaits sold at places like Starbuck's which you may not think cost that much but the amount can add up if you buy the thing (like I used to) often enough. Of course, I used to get not only the parfait but also a cup of coffee and bottle of Odwalla juice so I'd spend around $12- $14 easily in the morning. That adds up to a significant amount in a year. Money that you can use for more important stuff...like, say a new ice cream maker....opps, was I thinking loudly? hehehe. But seriously,for $12- $14 I can already make several servings of this parfait. The other good thing it that you can substitute mango for any fruit or berry that you prefer.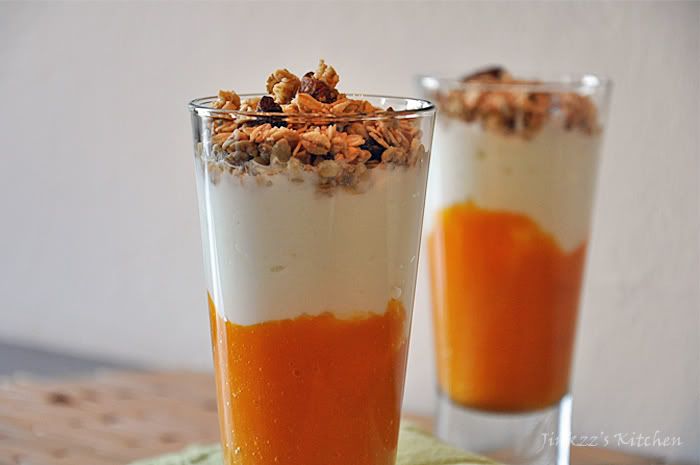 Ingredients:
Mango, peeled and pitted
Plain yogurt
granola
sugar, as needed
1. Place mango slices in a blender and puree. Add sugar depending on your desired sweetness.
2. In a tall glass, place 3-4 spoonful of pureed mango, then top with a layer of yogurt and top with granola.