The abundance of lemons right now is such a blessing for the summer and the warm weather because it means that I can make a lot of lemonade whenever I feel like. Yesterday I went to one of the local bargain grocery stores and found that they had lemons on sale at 4 for $1 which is a real bargain. Normally I do not buy produce at these kind of supermarkets because they tend to have produce that are of lower quality. Today was different though because their lemons looked so good....maybe it is the summer months that's why their produce are of better quality that usual.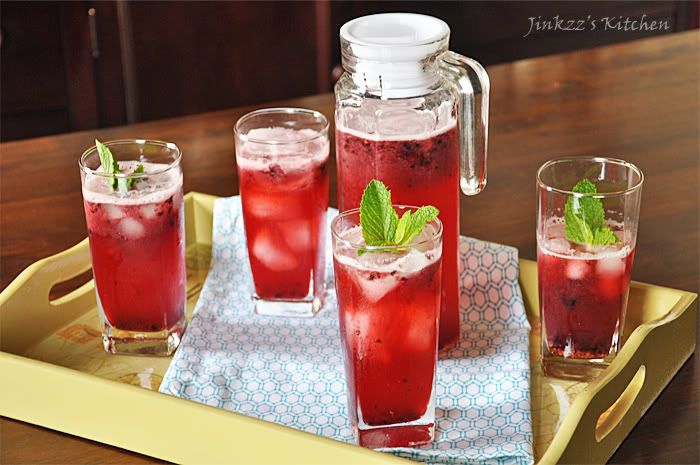 I grabbed a dozen which is indeed a bargain at around $3 with the intention of making some lemonade. I also grabbed a bunch of good looking fresh mints and went on my merry way. When I got home, I prepared everything that I needed to make the lemonade but in the process found a container of blackberries which I bought from the farmer's market this week...light bulb moment- blackberry lemonade....hehehe
I made the usual lemonade and added a handful of bruised and hand-torn mint leaves. I left it in the refrigerator overnight to allow the mint flavor to infuse into the lemonade. When I checked on it the following day, the lemonade had a nice minty flavor to it. Not overpowering but a nice-subtle hint of freshness.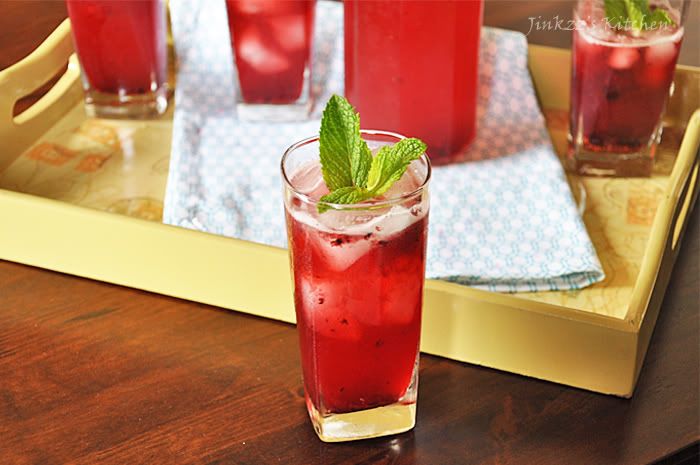 I used about 3/4 of a cup of blackberry and whirled it into the blender to break up the delicate fruits slight then added it into the lemonade mix. The result is this nice red concoction that taste really good. I didn't strain the blackberry seed out because that will also remove all the skin. Instead,I just added everything as it and stir to mix well. They didn't really bother me since they sink to the bottom of the glass anyway. If you don't want the seed, you can strain then when adding the blackberry into the lemonade mixture. Personally, I think they give the lemonade a nice personally that different from other...hehehe
This lemonade really taste so good that I cannot stop drinking them. I must have finished half of the batch that I made already, They really hits the spot and quench your thirst especially if you add it to a tall glass filled with ice. The minty flavor gives it a fresh flavor profile... a nice departure from the usual lemonade :)
One word of advice though...make sure that you wipe your glass sides and bottom after you have poured the drink because the blackberry can stain your linens. I wiped the bottom of my glasses before I placed them on the tray and on top of my kitchen towel when I took these shots but still noticed a few scattered spots of blackberry stains when I moved the glasses around ... I was dreading that it might stain permanently but couldn't stop until I got all my shots in. I made the same mistake when I took shots of a sandwich that I am posting soon and had specks of stain another kitchen towel as well when I used a glass of this lemonade as props...ughhh... I liked these kitchen towels which I got from La Surla Table... luckily, a quick trip into the wash got rid of the stains but make sure to wash them immediately or the stains might not come off.
Ingredients:
1 cup freshly squeezed lemon juice
3/4 cup sugar (adjust to taste)
4+1 cup water
3/4 cup blackberries
a handful of mint leaves, bruised and hand torn + some for garnish
ice cubes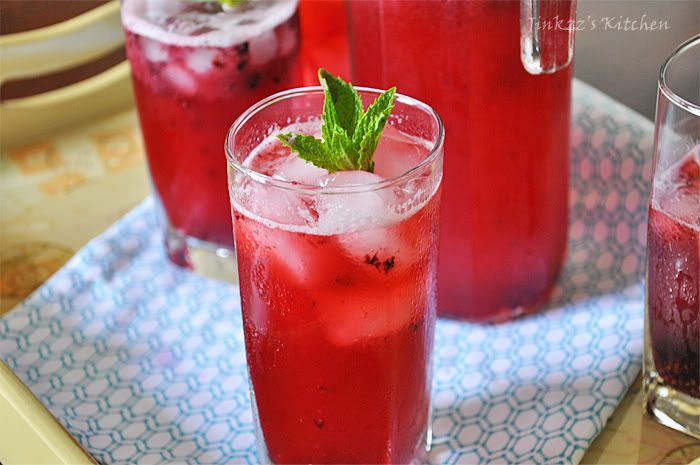 1. In a small sauce pan, add 1 cup water and 3/4 cup sugar. Heat until sugar dissolves. Remove from heat and let it cool. Set aside.
2. Using a juicer, extract juice from enough lime to produce 1 cup of lemon juice.
3. Combine lemon juice, sugar syrup, mint leaves, and water. Mix well. Leave on the refrigerator overnight.
4. The following day, strain lemonade mixture to remove mint leaves.
5. In a blender, pulse blackberry with about 1/4 cup of lemonade in a blender just until the fruit is broken slightly.
6. Add blackberry mixture into the lemonade and stir to mix well.
*** NOTE, you may have to stir the mixture well prior to serving to mix everything again if it has been sitting for a while.
7. Pour in a tall glass filled with ice and serve.