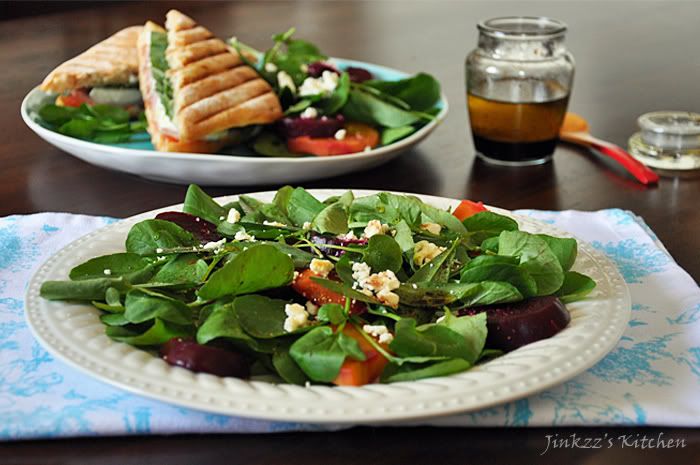 Today is not a good day since I have to finish a presentation that is due for submission. School's good because I am learning a lot but I do not like the part where we have to submit paper/project/presentation almost every week. The good news though is that this class is almost over- one more day...Then off to another six-week course. I do like the flexibility of online education because I can do my assignments and post participation at a time that is convenient to me. No set time, no driving to the physical classroom. The draw back? so darn expensive...but I guess its the same everywhere-online or campus education.
Since I am busy with academics today, I do not have much time to spend cooking and preparing dishes. The obvious answer (of course) is a salad and sandwich combo. For the salad, I chose watercress as the base then added tarragon, beetroots, feta cheese, and drizzled with an olive oil-balsamic vinegar dressing.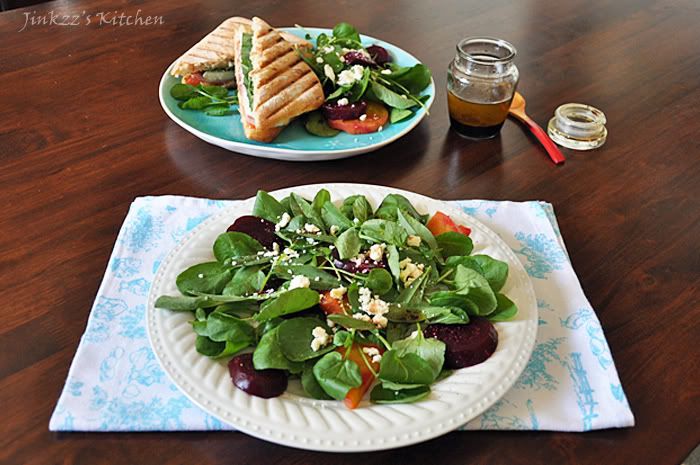 This is very easy to make. Okay, I admit that I always say that but that is the only word that I can describe the preparation of this dish...combine, drizzle, and dig in. Well, maybe a little prep time is required but hey if I could make it while trying to crack my brain trying to write a report and presentation, I am sure it will be easy peasy for anyone...right? hehehe
While writing my report and presentation, I boiled the beetroots until it is fork tender. Oh, make sure you wash them very well to remove any dirt then place them in a pan and cover with water. Cook over medium heat ...don't forget to leave a little opening when placing the cover on top to prevent the water from splashing and boiling over. Clean-up would be a huge problem since water turns slightly reddish-orange. After it becomes tender, remove from heat and hot water and let it cool down. When it has cooled down, use food preparation gloves to peel the outer layer (skin) from the beetroots. Unless you want to end up with reddish to reddish-orange tinged hands, I suggest you make use of the gloves...hehehe.
Once the beetroots has been boiled and sliced, the rest only required assembling the salad- mix and toss.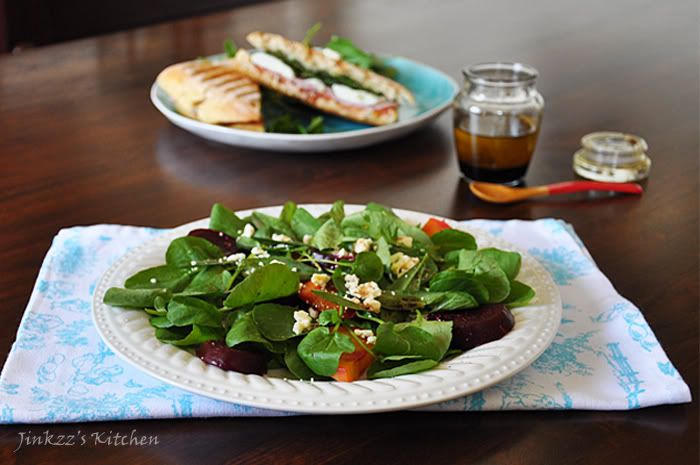 Watercress is not really something that I normally choose as my salad green because it has a strong peppery and tangy taste to it. Don't get me wrong. I do like anything bitter, peppery, or tangy but watercress, i believe, tops them all. The good thing is that if you combine it with the sweet beetroot taste, licorice-like tarragon, and feta cheese, you can hardly taste the peppery-tangy flavor of the watercress. The different taste and textures compliments each other.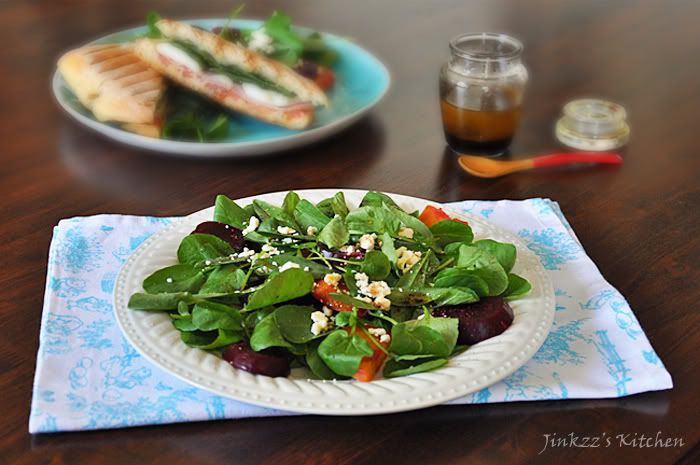 Ingredients:
2 red bettroots
2 golden beetroots
1 bunch of watercress- roots trimmed, washed thoroughly, and dried using a salad spinner
1 spring of tarragon- stems removed and discarded
feta cheese, crumbled
sea salt and freshly ground pepper, to taste
1-2 Tbsp white wine vinegar
1. Place beetroots in a pan. Add white wine vinegar and a little salt.
2. Cover with water and heat over medium heat.
3. Cook beetroots until fork tender. Remove from heat then set aside to cool.
4. Once beetroots has cooled, use food prep gloves to peel then slice into disks at approximately half an inch thickness.
5. In a large bowl, combine watercress, tarragon, beetroots, salt and pepper. Toss lightly.
6. Top with crumbled feta cheese then drizzle dressing over it.
Dressing
3 Tbsp extra virgin olive oil
1 1/2 Tbsp balsamic vinegar
1 tsp lemon juice
sea salt and freshly ground black pepper, to taste
1. Combine all ingredients in a container with a tight-fitting cap.
2. Shake to combine and emulsify.
***this recipe can be multiplied accordingly if you are making a huge batch of salad.