Hmmm...is it the water? or, the air? I really do not know the reason but somehow I have been on Filipino dish streak these past few days. It is not just a desire to cook Filipino dishes but I have actually been craving for them. That's a little strange since I normally crave for Korean fare instead of Filipino. Homesickness? maybe... it is almost a year since I went home to the Philippines ...
I really wish I can go home before this year is over but I guess the chances of that happening is almost nonexistent especially since I am not sure when I will be able to go back to work. October will be here soon which means alumni homecoming...i guess I will have to pass on that one...ughhh... I want to go home... I really do...huhuhu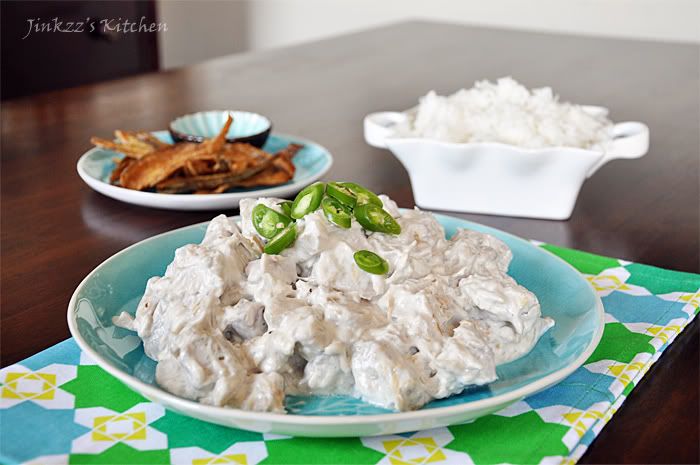 Okay, enough whining and back to regular programming...hehehe
This dish is reminiscent of my homeland, the Philippines, and of Negros Occidental, the province where I am originally from. We call this dish ensalada nga langka (Jackfruit salad) though it is actually a misnomer since this dish is hardly a salad but more like a stew. This dish is served as an accompaniment to main dishes such as pork and fish which, i guess, is the reason why it got its name.
This way I make this dish is very rich since I use coconut cream (kakang gata) instead of coconut milk. It is slightly different from what we were used to in the Philippines which is less richer than this one. The dried fish that I am using is also not the same as the one that we use in the Philippines. I used Jeprox which is more bony and paper thin instead of pinakas (the one that we used in the Philippines) which is fleshier and bigger in size. To give the dish an extra kick, I added a few hot chili. If you do not want it to be too spicy, you can discard the seeds once you slice the peppers.
CAUTION:
Do not touch your face or eyes when slicing peppers as it may cause burning.
Also be careful when cooking and eating dried fish especially Jeprox as it has a lot of bones.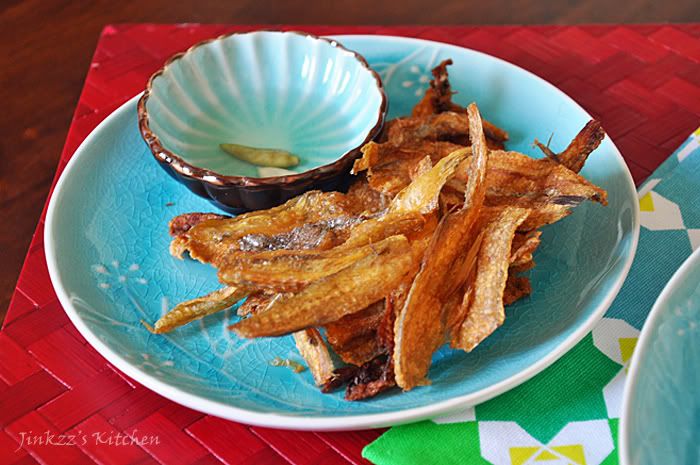 The picture above this post features fried Jeprox (dried fish)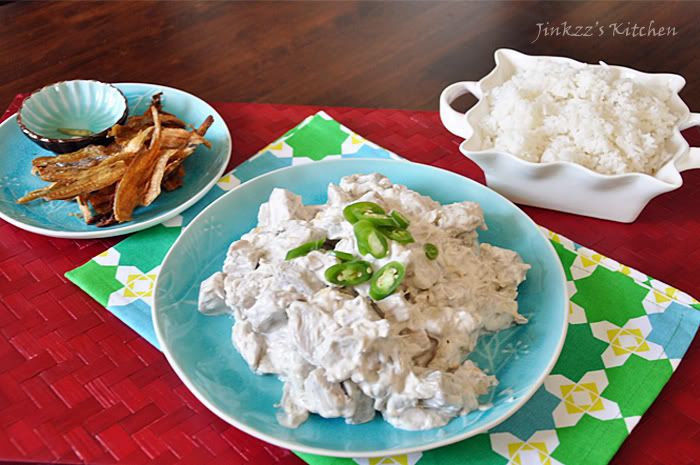 Ingredients:
3 cans of young, unripe jackfruit, sliced into half an inch thickness
2 cans coconut cream (coconut milk, if you prefer)
4 jalapeno pepper, sliced thinly (remove seeds if you do not want it too spicy)
5-6 Jeprox (dried fish) or any dried fish that you prefer
salt and pepper, according to taste
onion, sliced thinly
oil for sauteing
1. Heat pan over medium heat. Add oil.
2. Saute onion until translucent.
3. Add jackfruit and dried fish then saute for a couple of minutes.
4. Add coconut milk/cream and simmer until jackfruit is soft. Stir occasionally to prevent coconut milk from curdling and burning..
5. Cook until almost all of the liquid has evaporated.
6. Season with salt and pepper according to taste. Add sliced pepper, mix and remove from heat.
7. Serve warm.