I like spicy chicken wings... I usually order a serving every time I place an order for pizza. There is just something about it that can get very addicting and yummy. They can be very messy to eat but I guess that is part of the charm in eating hot wings especially if you use your hands instead of the utensils :)
This recipe for chicken wings is based on a Good Housekeeping cookbook that my sister-in-law gave me recently. I used cocoa powder instead of grated dark chocolate since I didn't have any in the house. The result is a decadent variation of the classic hot wings that I do like very much.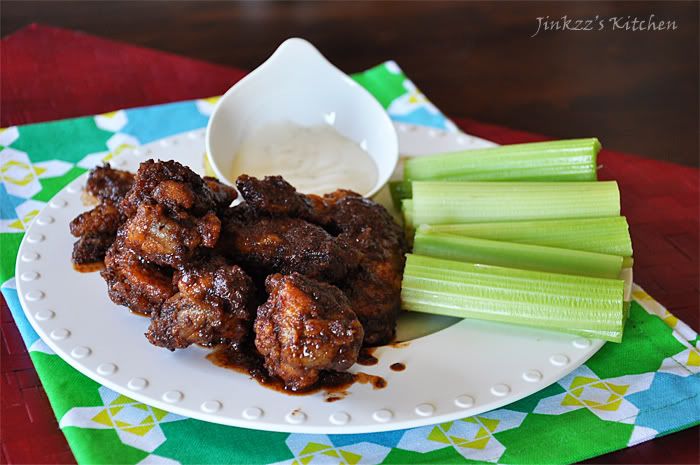 Cooking this takes a few steps and several cooking vessels so be prepared to wash a mountain of dirty dishes afterwards...hehehe. I used one cooking pot for frying the chicken wings and another for the sauce. I also used several plates for the preparation which was my mistakes since I should have used a ziplock bag for dredging the wings in seasoned flour. That would have saved me a little bit of time and fewer dirty dishes...
The recipe calls for a cup of butter but I cut it down to half and still got a good result. I do not like my food too greasy anyway so it worked out well. Instead of using a regular hot sauce to make the dish spicy, I used a combination of kochukaro (Korean powdered chili) and Sriracha (Vietnamese hot sauce). The kochukaro don't dissolve well so the sauce can be a little gritty but I liked it anyway. You can adjust the spices to suit your taste but the proportion that I used (1 Tbsp kochukaro and 2 Tbsp Sriracha) was good enough for me- not too spicy but with enough hint of spiciness.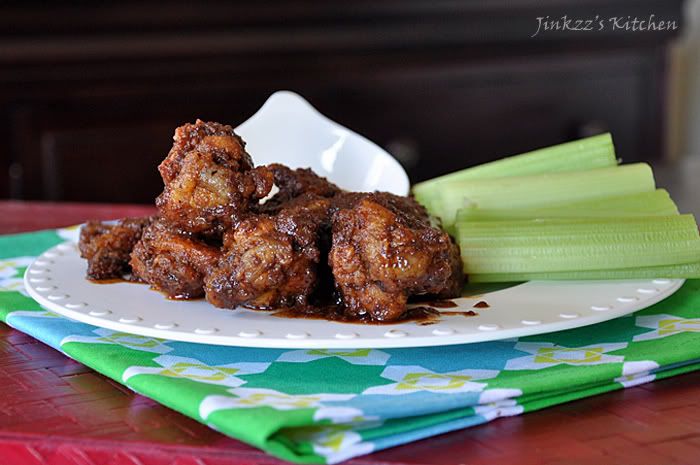 Dredging the chicken wings in seasoned flour before frying not only gives it a nice flavor but also makes it crunchy even after the sauce has been added. I think that if you do not dredge the chicken wings in flour prior to frying, the wings will become soggy once the sauce is added. The addition of cocoa powder in the sauce gives it a darker color and deeper flavor than normal hot wing sauce.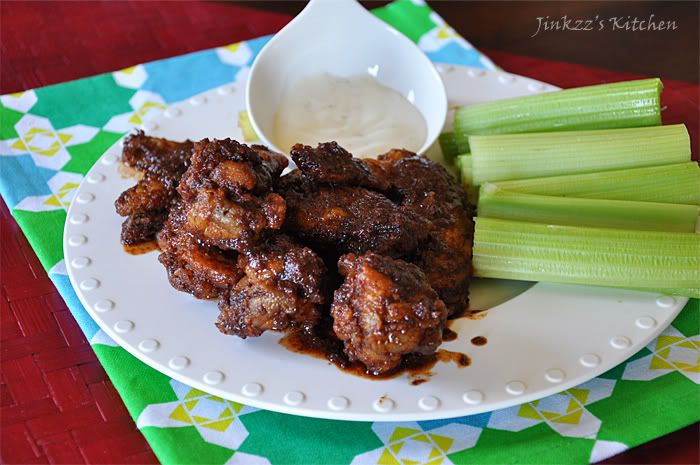 Ingredients:
2 lbs chicken wings
3/4 All-purpose flour for dredging
sea salt and freshly ground pepper, according to taste.
1 Tbsp cocoa powder
2 Tbsp Sriracha hot sauce
1 Tbsp kochukaro (Korean chili powder)
1/2 cup butter, room temp
oil for frying
1. In a bowl, combine flour with salt and ground pepper. Mix thoroughly
2. Dredge chicken wings in flour mixture, remove excess and set aside.
3. Heat oil in a deep pan. Add a few chicken wings at a time and cook until done. Remove from heat and place in a paper towel lined plate to absorb excess grease. Set aside.
4. Heat another pan over medium heat. Add butter and cook until melted.
5. Add Sriracha and kochukaro. Cook for a minute or two then turn off the heat.
6. Stir in cocoa powder and mix until well incorporated.
7. Add wings to the hot sauce mixture and mix until every wing is coated with the sauce.
8. Transfer in a serving dish and serve with ranch dressing and slices of celery.