As I mentioned in one of my earlier post, I will be posting more sandwich recipes...so here goes another one...
This one is made with fresh pear and prosciutto as well as wild arugula and percorino romano cheese. I also spread one side of the bread with dijon mustard and the other side with pear jam. The result is a perfect combination of sweet and savory goodness bursting in my mouth...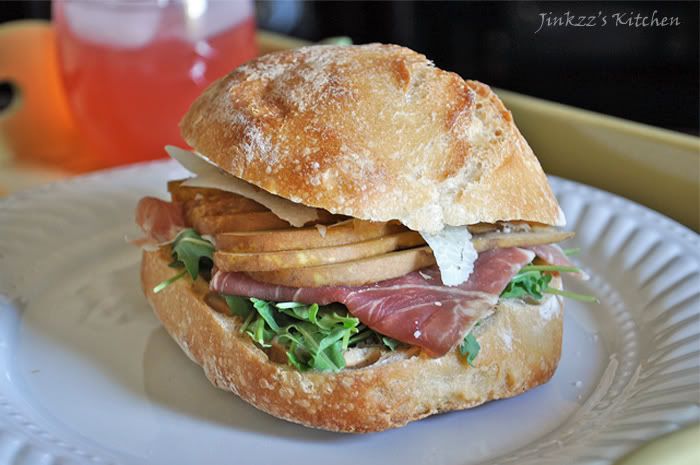 I would never have dreamed of using both dijon mustard and jam in one sandwich until I found this wonderful recipe from myrecipes.com (original recipe
here
). I modified it liberally to make use of ingredients that are readily available or I have on hand. Well, that and the fact that fresh is not yet available on the market.
I was talking to the produce guy at WholeFoods and was told that it might be a couple or so weeks before they will get a batch of fresh figs...Oh, I cannot wait since I like them a lot. I wonder if they are already available at Costco...hmmm... I do dread going there though because I always end up with a lot of things that I really do not need, such as a huge container of canola oil...thinking out loud again...lol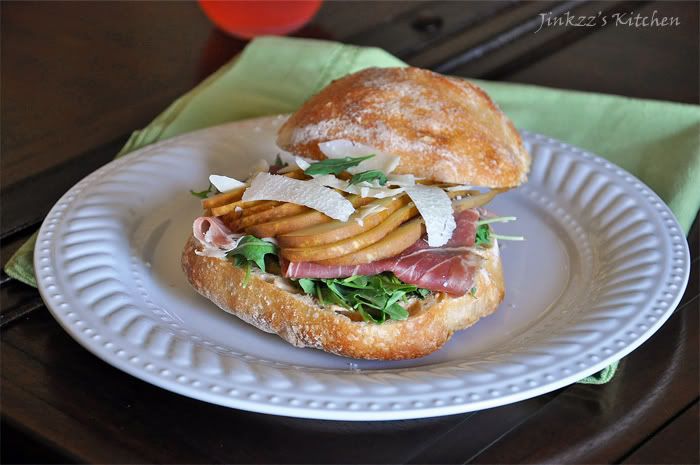 The sandwich is perfect as it contains a lot of ingredients -bread, pears, cheese, cold cuts, veggies...a balance and complete meat...hehehe....not sure about it being a balance meal but it sure does taste good...hehehe
I used prosciutto di Parma which were thinly sliced by the deli guy at Monsieur Marcel's. This particular prosciutto is made in the city of Parma, Italy which is very famous not only for their prosciutto but also parmigiano reggiano cheese. Prociutto di Parma is one of the most reknowned prosciutto variety but also pricier than others but not that much though. If I am not mistaken, the difference is only a little over a dollar per pound. I am not too sure though as I always buy di Parma.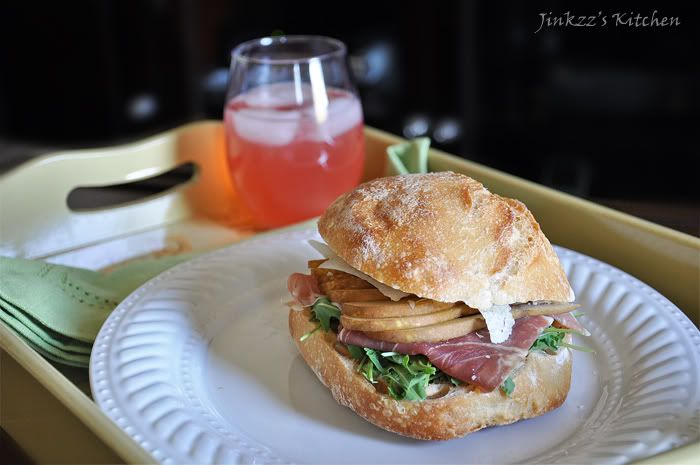 The bread that I used for this sandwich is a rustic panini bread but feel free to use any bread of your choice. Just lightly toast it and then spread dijon mustard on one slice and jam on the other slice. Speaking of jam, I used St. Dalfour gourmet pear jam. This is the first time I am trying this brand. At about $4 for a 14 oz.bottle, it was worth every penny that I spent on this baby as the taste is like no other that I have tried.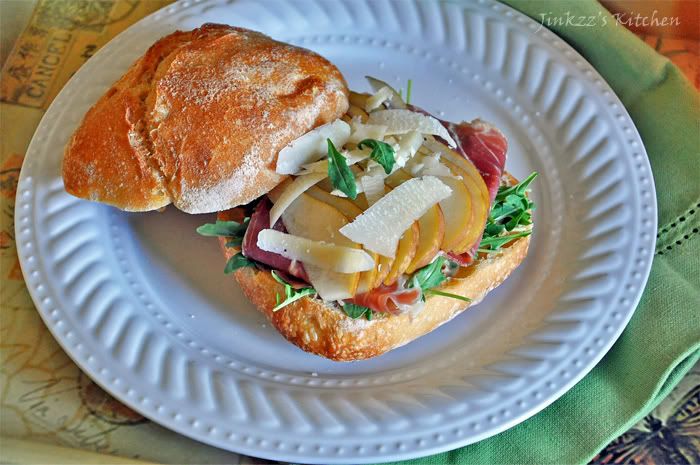 Ingredients:
bread
slices of prosciutto di Parma
wild arugula
shaved pecorino romano
dijon mustard
pear jam
pear, washed thoroughly and then thinly sliced with skin on
1. lightly toast bread
2. spread one side of bread with dijon mustard and the other with pear jam
3. Arrange some wild arugula on one side of the bread, top with prosciutto, then a layer of sliced pear.
4. Top with shaved perorino romano and cover with the other slice of bread.
4. serve immediately.
NOTE: If you wish to place it in a panini press to make it into a panini, you can also do so. It also taste delicious that way.