The weather's been too warm these past few days which makes me too lazy to cook. Cooking means having to open all the windows and doors to let out the heat but it also means that I have to turn off the air conditioner. Too much hassle so I tend to avoid cooking during the day when it tends to be the hottest and reserve cooking at night when the temperature is a little cooler. Or, opt to make dishes that does not require any cooking and minimal preparation. This dish is one such dish as it uses fresh fruits and yogurt so no cooking is needed.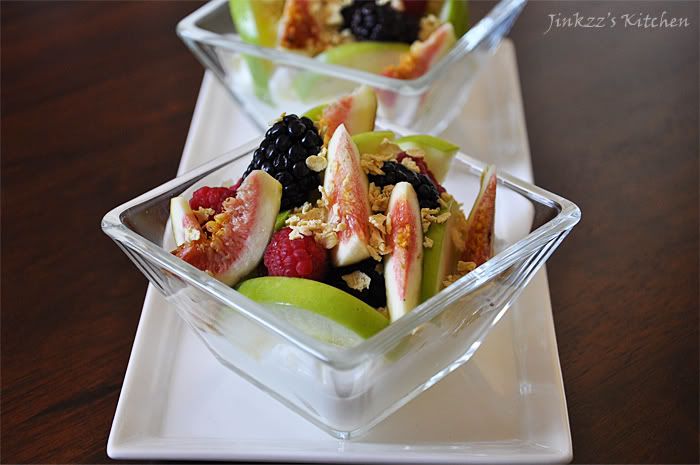 I used several fruits and berries that are in season so they can be easily substituted when the season changes. In this particular parfait, I used blackberries, raspberries, granny smith apple, and fresh turkey figs. Instead of regular yogurt, I used Greek yogurt which is a lot thicker in consistency. I also topped the parfait with dehydrated lentil flakes which I purchased from Dragunara at the farmer's market in Fairfax and Third. The dehydrated lentils provided some crunch to the parfait but it can be easily substituted with granola, if you prefer. If you prefer the parfait to be sweet, you can add a little bit of honey or sugar.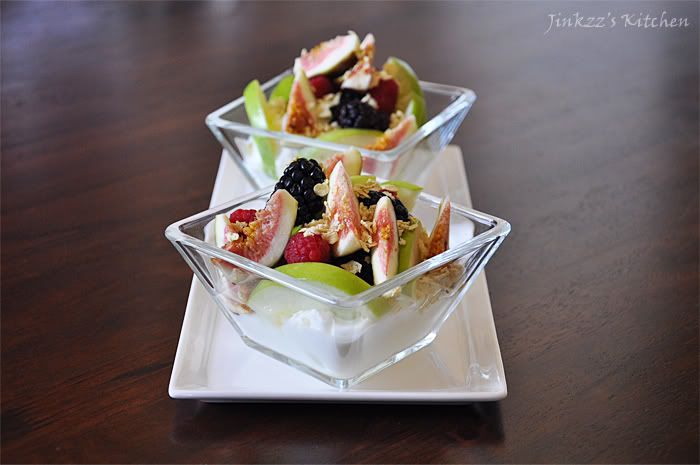 The fresh turkey figs that I used in this dish came from Costco. At $5.99 per tray of about 18 or more figs, it was a huge bargain compared to the one sold at WholeFoods. Figs are are just plain ugly on the outside but the insides are so pretty when you slice it. It has this pinkish and while color which is so attractive when you add to salads or as garnish. And don't even get me started on the taste as they are very tasty and delicious when they ripen. I usually do not peel it but I do wash it really well to remove the fuzzy exterior before slicing or eating it on its own.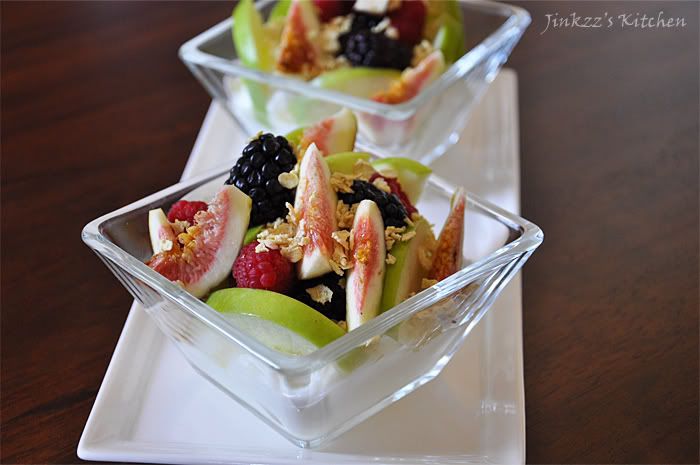 Speaking of Dragunara, it is a gem of a spice store located within the farmer's market at Fairfax and Third in Los Angeles. My friend and I found this little spice haven by accident when we took a different route than we normally take to get to La Surla Table. Ahh...so happy that we found this place because they sell a lot of spices that are not normally found in regular stores or even WholeFoods, such as dried lavender flowers, dried hibiscus flowers, Szechuan peppercorns, all colors of lentils, different types of salts, etc. I came out of the store bearing a huge shopping bag full of different spices...ahhh, the place is like an oasis for cooks and food fanatics...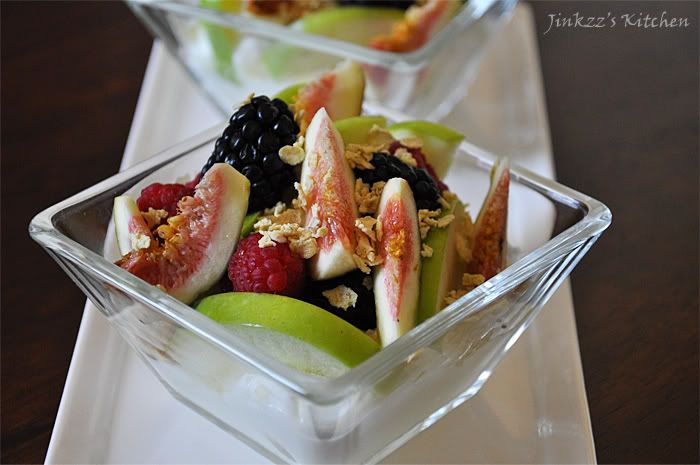 Ingredients:
Brown turkey figs
blackberries
raspberries
granny smith apple or any apple you prefer
2 Tbsp of dehydrated lentil flakes or granola
Greek yogurt
honey, optional
1. Wash, dry and slice fruits.
2. Place a layer Greek yogurt in a container
3. Top with fresh fruit slices.
4. Sprinkle dehydrated lentil flakes or granola on top.
5. Sweeten with honey, if you prefer.
NOTE: There is really no exact measurements in this dish so you can use as much or as little of each ingredient as you want.