Good day all. Busy... busy...busy...all day yesterday as I had to run all around town running errands. It didn't help that the sun was blazing and the temperature was too warm. It sapped all of my energy out and by the middle of the day I felt like I was running on empty. I stopped by at the Corner Bakery for a quick bite and ordered turkey breast panini which was surprisingly good but a little pricey in my opinion. It was also way too greasy, or rather the bread felt like it was slather in butter or grease... They might be using too much grease on their panini grill..hmmm. At $8 something a sandwich, I think I can do better at home. My takeaway on the experience is that it gave me an idea on what to make next in my sandwich series... hehehe.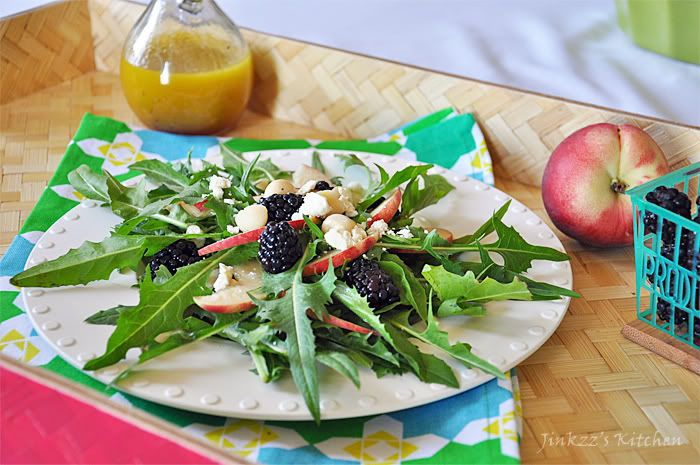 After a busy day, I went over to the valley to visit family... it was good seeing everyone after a long while. We had dinner at a Korean BBQ place and was stuffed to the brim. I always tend to overeat when I go to these AYCE (all you can eat) resto. What makes it worse is that I mostly ate meat so it felt really heavy but good nonetheless. Before I left, I got some Philippine lime (kalamansi) from my in-law's tree which I am intending to use in a dish or beverage later this week.
Today, I needed something light and easy to make for lunch to make up for all the meat consumption and heavy meal the day before. I went to WholeFoods really early to avoid congestion both inside the store and in the parking lot as the place tends to get packed as the day wore on. I picked up nuts (macadamia, pistacchio, brazil) and granola from their bulk food section. For the fresh produce, I got a bunch of organic dandelion, white peaches, purple potatoes, and blackberries. I am so happy with the produce that I picked up as they were really fresh. The dandelion, peach, and blackberries I am using for this dish while the purple potatoes are intended for another use either tomorrow or monday.
Dandelion is not something that most people would think of when they think of salad greens. Its not surprising because most people think of it as the weeds that ruin their perfectly manicured lawns :) What's more surprising though is that this "weed" is edible -leaves, flowers, roots. Of course, I wouldn't go around people's yards to pick them up as you are not sure what chemicals have been used in that lawn. For dandelion greens, I go to WholeFoods as they have the organic variety.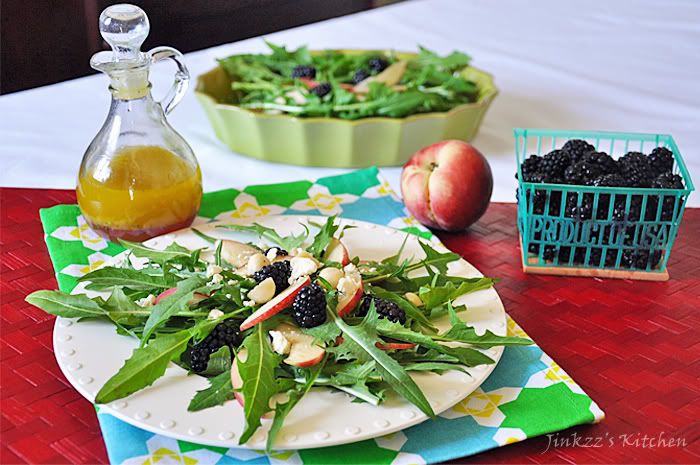 As mentioned, every part of the plant , or weed if you prefer :P, is edible. It can be boiled, stir-fried, or eaten raw as a salad. The greens has a bite to it, slightly bitter actually, and would probably be an acquired taste. I do not mind though as I am used to eating sauteed bitter melon (ampalaya) since I was young so the bitter taste do not really bother me. I usually put fresh fruits such as pears, apples, peaches, and berries in the salad which helps balance the bitterness with the sweetness. I added lightly toasted macadamia (which, coincidentally, I also eat raw at times) and crumbled feta. I used a simple olive oil and red wine vinegar dressing.
Ingredients:
1 bunch (about 1 lb or so) organic dandelion greens, stalks trimmed
1 white peach, washed and thinly sliced with skin on (you can also remove the skin, if you prefer)
2/3 cup fresh blackberries
1/2 lightly toasted macadamia nuts
sea salt and freshly ground black pepper, to taste
1/2 cup crumbled feta cheese
1. In a bowl, mix trimmed dandelion, sliced peach, whole blackberries, macadamia nuts, and feta cheese.
2. Toss gently and season with salt and pepper according to taste.
3. Serve with olive oil-red wine vinaigrette
Olive Oil-Red Wine Vinaigrette
1/2 cup extra virgin olive oil
1/8 cup red wine vinegar
juice of 1/2 a lemon, seeds discarded
sea salt and freshly ground pepper, to taste.
1. In a bowl, mix the first three ingredients and whisk until well blended.
2. Season with sea salt and freshly ground black pepper according to taste