New York steak was on sale at the regular supermarket so I bought a pack of three. The good thing with buying then in larger packs is that there is the supermarket gives additional discount which really helps. This NY steak pack was approximately 50% the regular price. Yehey for me! I used to get my steaks from Costco but the price comes up cheaper when I buy them at the regular store when they put them on sale. I am usually on the lookout for their sale circulars to see what they have to offer. Quality steaks can be a little bit pricey but as long as you have the basic information down pat then you are good to go. Good steaks are those with a good amount of marbling, or fatty tissues interwoven into the meat, which makes them juicy as well as tasty.
Some people does too much to their steak that it sometimes loses its taste. Marinades are okay for cheaper and lower quality ones as they help to enhance the flavor of the meat. For good quality steaks though I do think it does not need any marination but instead let its natural flavor shine through. I am not saying you cannot add any seasoning but just add enough to enhance its flavor without changing the flavor profile.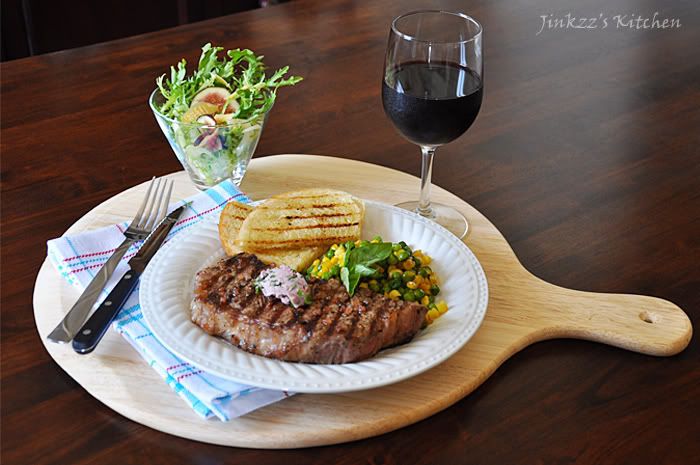 The steaks that I got was good quality although there is not that much marbling but still good and fresh. I do not normally go for boneless steaks but that's all they have on sale so I picked up a pack of boneless NY steak. Since I had not planned on cooking steak today, I wasn't prepared ingredients to cook with it. A quick search on the net yielded a good recipe from
WholeFoods
which used ingredients that I already have in my pantry and refrigerator. The recipe calls for grilling the steak seasoned with pepper and salt and topped with red wine butter.... it is simple and easy enough to make. I did substitute some ingredients but other than that I pretty much stayed true to the recipe :)
I grilled the steak using the stovetop grill pan instead of the outdoor gas grill since the weather's a little too warm to be staying outside. Besides, the stovetop grill pan is more convenient when you are only cooking one steak. No need to fire up the grill when it is much more convenient to use the alternative, right? hehehe. I prefer my steak in the rare to medium rare range. To do achieve this, I usually cook one side for a couple of minuted before turning it over to cook the other side for another two minutes. The result is a juicy,moist, and tender steak.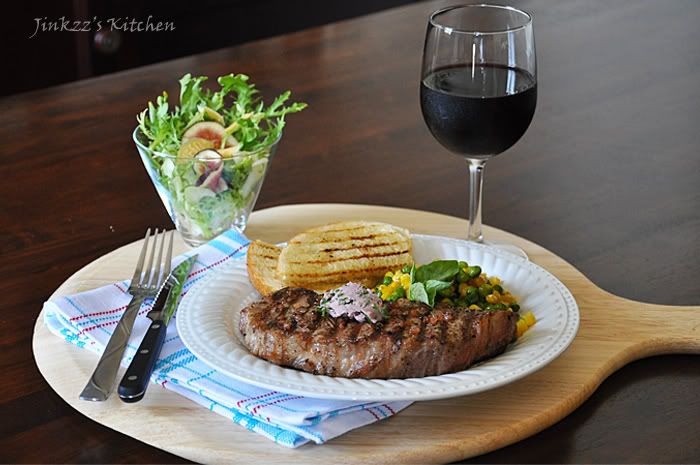 The red wine butter is divine because it enhances the flavor of the steak without changing it. The rule on using wine for cooking is to use the same wine that you drink. This means that if the wine is not good enough to drink then it isn't good enough to cook food with either :) I am not much of a red wine drinker but I did taste this one before I used it for cooking. It was pretty good with a slight peppery kick at the end. Some people are hesitant in cooking with wine especially those who has a low tolerance to alcohol but rest assured that the alcohol usually dissipates during the cooking process and just leaves a nice flavor to the dish.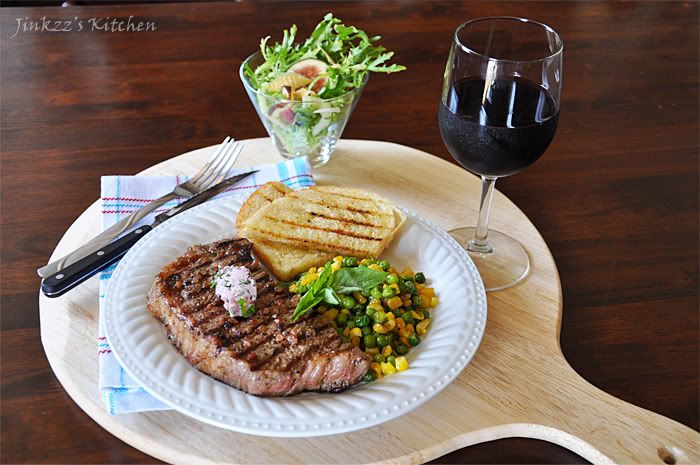 For this dish, I substituted regular salt with coarse Himalayan pink salt. Himalayan pink salt. They are hand-mined in ancient sea salt deposits which formed as as early as the Jurassic era some 250 million years ago. The are believed to be the purest form of salt available today. They are rich in a lot of elements and trace minerals. Their color range from pinkish white to pinkish and are very pretty to look at especially the coarse crystals. To me, they look like little gems :)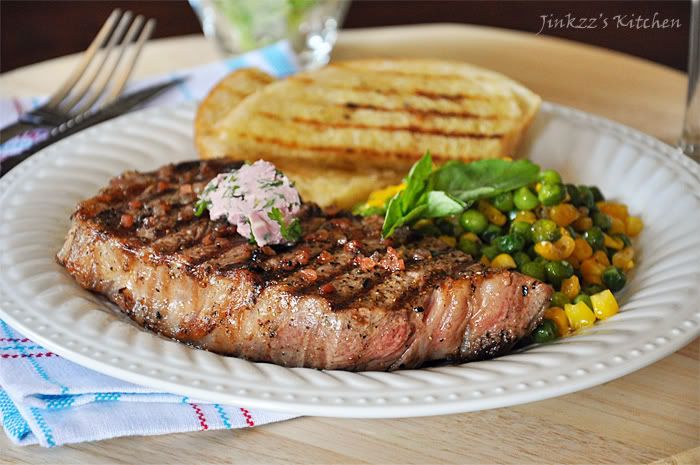 Ingredients:
New York steaks
1/2 tsp Himalyan pink salt, less if you prefer
Freshly ground tricolored pepper
olive oil
1. Brush steaks with olive oil. Season with freshly ground pepper and Himalayan pink salt
2. Grill to desired doneness then remove from heat.
3. Let it rest for 10 to 15 minutes before slicing or serving to let the juice redistribute.
4. Top with red wine butter before serving.
Red Wine Butter
1 cup red wine
8-10 whole peppercorns
1 bay leaf
1/2 cup butter, room temperature
2-3 Tbsp finely chopped Italian parsley
1. In a pan, combine red wine, peppercorns, and bay leave. Heat over medium heat.
2. Continue cooking until it has reduced to about 2 Tbsp in volume the strain and set aside to cool.
3. Beat butter using a mixer until soft and fluffy
4. Add wine reduction and beat until incorporated.
5. Stir in parley and mix using a spatula.
6. Place in container with lid. Leftover can be stored in refrigerator.