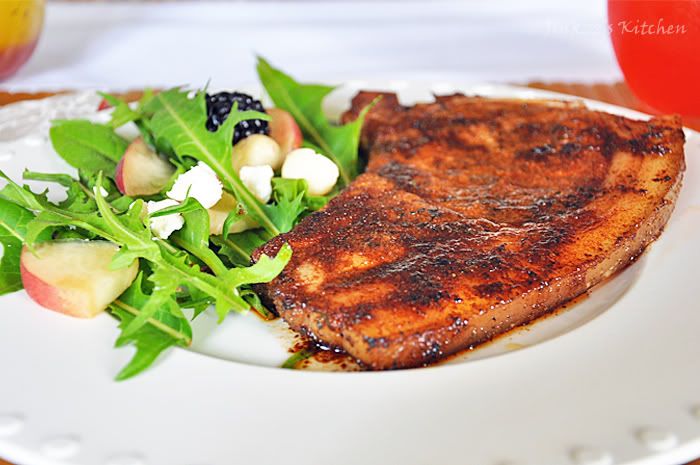 Ughhh...woke up tired and sleepy this morning after only 4 hours of sleep . I came home a little past eleven last night after going to the valley to watch Pacquiao-Bradley fight...Bradley won which was a little mind-boggling considering that Pacquiao, to many, dominated the fight...but, Oh well...doesn't really affect me much since I am neither a boxing fan nor watch Pacquiao fights on a regular basis. I took a little detour last night coming home since I missed my freeway exit (I-170) and continued on to I-5. Ha! I guess my sense of direction isn't all that bad since I was able to get home without the aid of a GPS...iPhone GPS is good but only if you have a passenger who is navigating but when you're driving alone, it is not a nifty device since it is way too small to read while driving (especially at night). Nonetheless, I made it home without any problem....hehehe...After I got home, I spent the next five hours proofreading and revising s group paper for school. Aigoo, that wasn't fun especially when all I really wanted was to go to sleep. At least that is out of the way and submitted to the professor.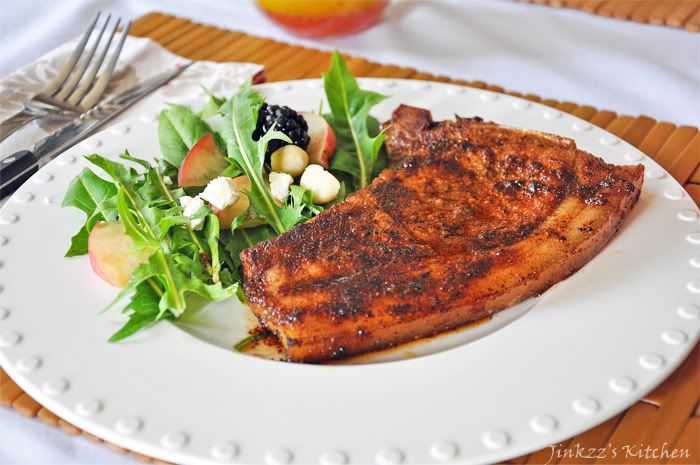 Okay, enough rambling and on to the business at hand...hehehe.
This recipe is from a Good Housekeeping cookbook from the Philippines that my sister-in-law gave me on their recent visit. I have to say that this cookbook has a lot of great recipes which I cannot wait to try. When I quickly browsed through the cookbook, it looks like some were adapted to the Filipino palate but maybe I was reading it all wrong...will have to go back and read it in detail when I have a chance.
This particular dish is a delight. Due to the addition of a lot of spices, the resulting dish tasted like a flavor explosion in my mouth. It is spicy, sweet, savory, and smoky all at the same time. Don't the not-so-pretty appearance fool you because it taste better than it looks. The preparation is a breeze as well. It is a combination of quick-frying and baking. assembling and mixing the spices and rubbing will probably take you less than 10 minutes (only because there is so much measurement involved) them quick fry for 2-3 minutes each side and then bake for 10 minutes. All-in-all, it might take you less than 30 minutes from start to finish.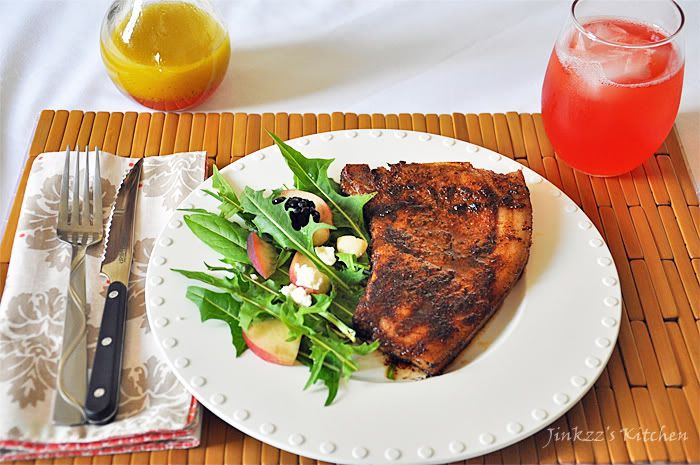 Ingredients:
4 pieces pork chops (bone in)
cooking oil
Spice rub:
2 Tbsp brown sugar
1 Tbsp Italian seasoning
2 tsp onion powder
1 1/2 tsp cocoa powder (unsweetened)
1 1/2 tsp garlic powder
1 tsp paprika
1/2 tsp chili powder
1/2 ground cumin
1/2 tsp sea salt
1/2 freshly ground black pepper
1. Preheat oven to 305F
2. Combine spice rub mixture in a bowl. Mix well
3. Coat the pork chops (on both sides) with the spice rub mixture.
4. Heat non-stick pan over medium heat. Add oil and pan-fry pork chops for 3-5 minutes on each side.
5. Transfer pork chops to a baking dish and bake for 10 minutes or until cooked through.
6. Serve immediately.