Caprese salad is one of my all-time favorite salad- especially when the ingredients used are good quality. Truth be told, I didn't always like caprese salad. The reason for this is that I hate the taste of raw tomato. It just tasted weird to me- tangy, juicy, and has a lot of seeds. Over the years, my taste has started to evolve until I got used to the raw tomato taste. Now, I do not have a problem eating them-raw or otherwise.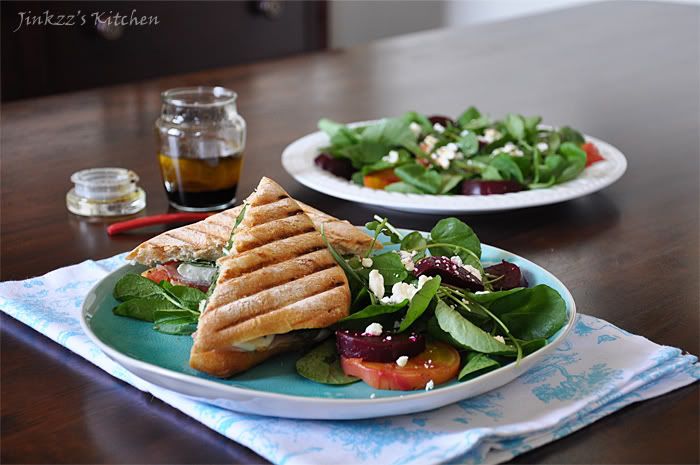 As I mentioned, I do like caprese salad and can probably eat it everyday. My love for caprese led me to experiment how to incorporate it in another dish besides serving it as an antipasto (starters). The result is this wonderfully flavored and taste panini.
Caprese salad is nothing more than a combination of sliced tomatoes, sliced mozzarella cheese, fresh basil leaves, olive oil, salt, salt and pepper. For this sandwich, I used the classic ingredients for a caprese salad then added a couple of slices of hambon de Paris (Ham of Paris) which I got from Monsieur Marcel's*** at Third and Fairfax, inside the Farmer's market. For a nontraditional version,I guess you can add balsamic vinegar but I have not tried it so I am not sure how it would taste.
***Note: If you have been following my blog, you would notice that I often mention this store. The reason for that is because it is a great place to get deli and imported ingredients.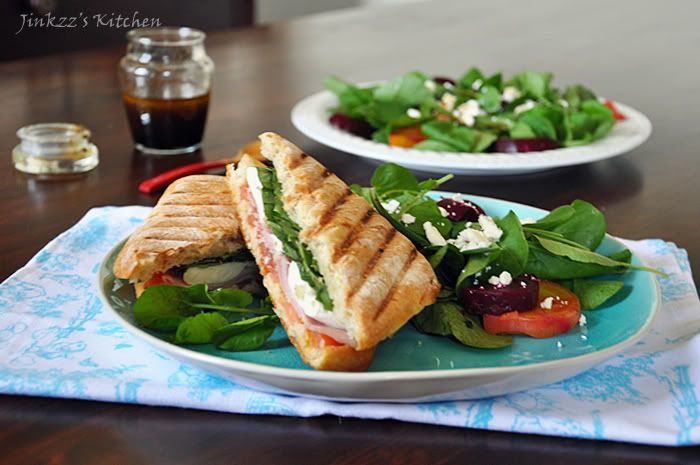 I sliced the ciabatta in half and then brush both sides with EVOO using a pastry brush. Then I layered thinly sliced tomatoes which I also lightly brushed with EVOO and seasoned with salt and pepper. I topped that layer with 2 thinly-sliced hambon de Paris (If you cannot find this, you can substitute it with regular ham) then add a layer of mozzarella medallions*** before adding a layer of basil leaves and covering with the other slice of ciabatta. After that, off to the grill pan or panini maker it goes.
*** I buy pre-sliced fresh mozzarella medallions from WholeFoods but you can just buy them whole and slice them yourself.
Ingredients:
1 Ciabatta, sliced into two
1 thin slices of Hambon de Paris or regular ham
1-2 Tbsp extra virgin olive oil (less if you prefer)
1 small ripe tomato, sliced thinly
a few leaves of basil
4-5 fresca mozzarella medallions (fresh mozzarella cheese)
salt and pepper to taste.
1. Slice ciabatta into half. Lightly brush with EVOO using pastry brush.
2. On one side, place one layer of thinly sliced tomatoes. Lightly brush with EVOO then season with sea salt and pepper according to taste.
3. Add two slices of hambon de Paris and top with mozzarella cheese.
4. Add a layer of basil leaves then place the other half of the ciabatta. Set aside
5. Heat your cast iron grill pan over medium heat.
6. Add about 1/2 a tsp of olive oil. Using a non-stick, heat-resistant basting brush, spread the oil all over the grill pan.
7. Position your panini in the middle of the pan. Place a layer of foil on top of the panini before placing you weight.
***make sure that the weight is stable and provides even weight on the panini. I used a cast iron pan and then topped that with a cast-iron wok to provide a a heavier weight on the sandwich.
8. Grill each side for about 3-4 minutes or until it is toasted according to your preference. When one side is done, use a spatula to turn it over and cook the other side using the same procedure.
9. When done, remove from heat and slice into two equal portion. Serve with potato chips, fried, salad or your choice of sides.