I cannot believe that it has been a few days since the last time I posted. I have been cooking but experience a backlog when it comes to posting...been busy all week since I started a new class this past Tuesday. Another core nursing informatics class which brings me closer to finishing this course. After this class, I only have one more informatics class then on to my nursing education core classes. Surprisingly this school stuff is not so bad and I am really liking it.
Moving on...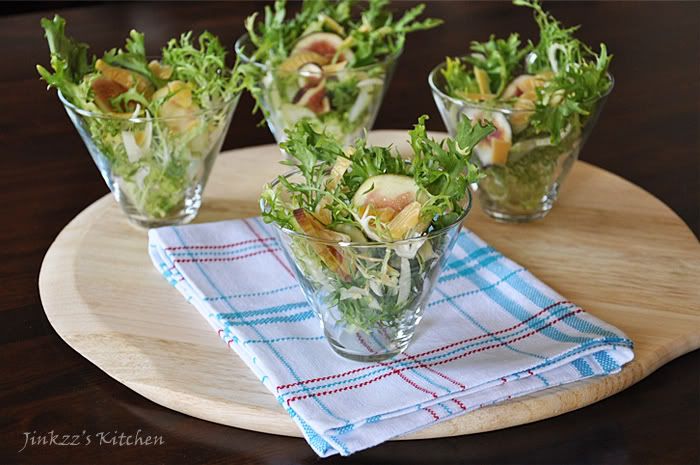 Here's another salad recipe for y'all. This is a light salad that is perfect for the summer. I got my ingredients from WholeFoods which, as always, sells produce that are always fresh. I do like going to their branch in Fairfax and Third. Although it can get crowded during the day, the hassle is all worth it.
Frisee is not really something that I use as the main salad greens. I usually have it in mixed green salad, such as Mesclun but WholeFoods had fresh ones so I bought it as the salad green base. They say it is slightly bitter in taste when eaten raw but I can hardly taste that bitterness. Compared to salad greens, such as dandelion, arugula, and watercress, the taste of frisee is way milder. This salad green is available throughout the year. It has greeninsh to yellow-greenish lacy leaves and is a good source of mineral, fibers, and vitamins.
One thing to remember when using frisee is to make sure and separate the fronds then wash it thoroughly. I find some dirt deep within the fronds close to the end...hehehe...it will not be good to eat salad with some dirt still on it. I also trimmed the hard parts of the fronds/stems.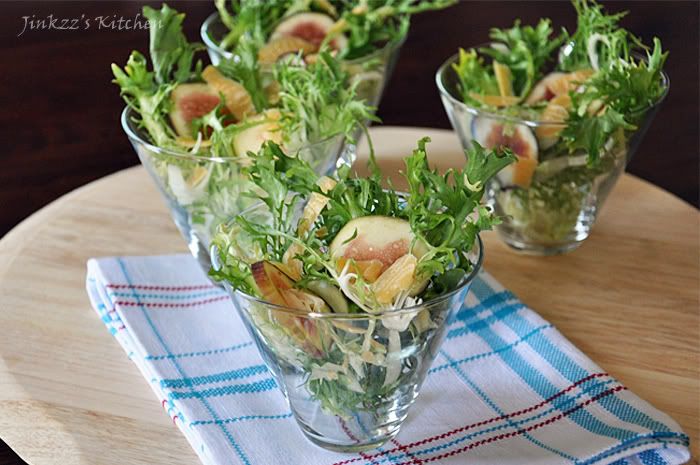 I also used figs for this salad. Although fig season has just started, I went ahead and bought some since I have been on the lookout for it for a couple of weeks now. The figs that I got were nice and sweet. Give it another couple of weeks and the season will be in full swing so it will become widely available in the market. The figs lends a hint of sweetness to the salad which does not only make it taste lighter but also balances the flavor out. I had some leftover figs after I made the salad and I already have plans to make a fig sandwich out of it...hehehe
Another great addition to this salad is the aged Gouda. The one that I bought is a five-year old Gouda which is firm to touch. It is not as firm as Parmigiano Reggiano though but still pretty firm compared to regular Gouda. It has a slightly pungent smell an strong taste but very creamy consistency. It also has a lot of crystallines which are salt-like in consistency but they are actually calcium lactate crystals which forms as the cheese ages. This cheese is yummy.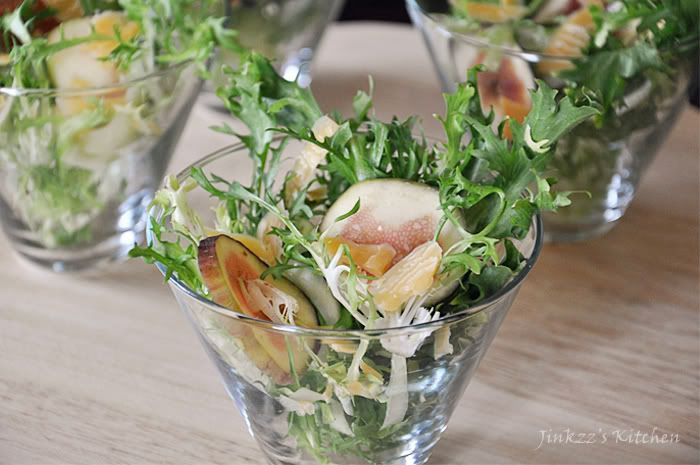 Ingredients:
1 head frisee, trimmed and washed carefully
a spring of tarragon, remove leaves from stem
1 fennel bulb, slice thinly
4 brown turkey figs, sliced thinly
salt and pepper to taste
Gouda cheese, shaved thinly using a vegetable peeler
1. combine green in a salad bowl. toss lightly to mix.
2. Serve with lemon-olive oil vinaigrette
Olive Oil-Red Wine Vinaigrette
1/2 cup extra virgin olive oil
1/8 cup red wine vinegar
juice of 1/2 a lemon, seeds discarded
sea salt and freshly ground pepper, to taste.
1. In a bowl, mix the first three ingredients and whisk until well blended.
2. Season with sea salt and freshly ground black pepper according to taste