Good morning, World. I went to bed early last night so I woke up bright and early this morning...huh? Did those words come out of my mouth... este, did I really type those words? Hahaha...quite strange coming from a girl who is not always in a good mood in the morning. I am not a morning person but strangely I feel okay this morning...maybe because I got some much needed rest last night after a few days of not sleeping well. I tell you, I slept like a baby with a few dreams here and there but i cannot even remember those dreams when I woke up...strange, huh?
Anyways, I have some blogging to catch up to so I will start with this entry and maybe back-track posts for the last two or three days and post entries for the dishes I cooked but haven't had time to post...hehehe...was busy with school trying to finish a paper that was due Monday so didn't have time to post...
I had an appointment with my therapist yesterday morning...hand therapist, not psychiatrist...hehehe.... and as usual I usually stop by at several shops before finally making my way home. In the process, I usually end up with tons of stuff by the time I reach home. What can I say? There are just so many temptations along the way. First, I stopped by at Whole Foods and picked up more arugula, ciabatta, and basil as well as well as corn, jam, and mustard. Next off, I went to Monsieur Marcel at the Farmemr's market and picked up prosciutto, and oven-roasted turkey breast from their deli section. Next, I went to World Market and La Surla Table(still at the Farmer's Market) and picked up some glasses, small dishes, and tea towels...Oh, the joy...they are like candy stores for the kitchen....too many pretty and shiny stuff :). Finally, I bought some fresh produce at the Farmer's market which were really great and fresh.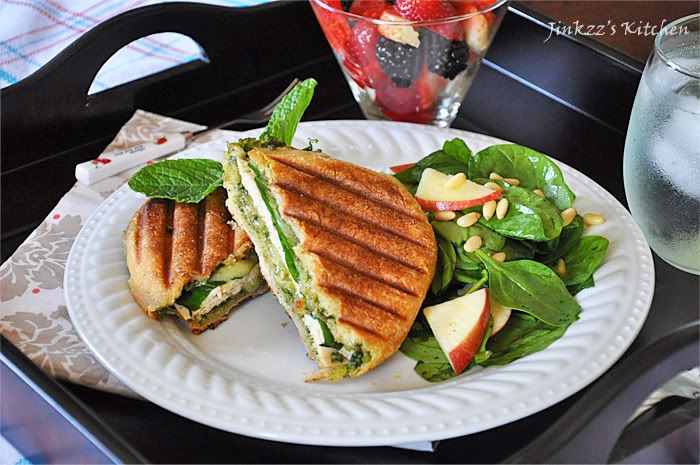 By the time I finally made it home, it was past lunch time. Unfortunately, there was nothing ready to eat at the house A quick rummaging on the cupboard and refrigerator and I found some ingredients I need to make a quick lunch...the result is a turkey, sinach, and pesto panini. I am telling you, I have been hooked on panini lately...hehehe... If you do not have a panini press or panini maker, refer to
this post
for idea on how to make it... it is easy and tasty
The combination for this pesto sandwich came from sister who told me after she saw the picture of my sweet chili, chicken, and pesto panini which I posted on my facebook account. I was a little skeptical at first because I was not sure how the wilted spinach taste in the panini but this converted me into a huge fan. Everything meshes well together perfectly and you cannot even tell that the spinach is in there which will be a good way to sneak veggies into your children's diet. I think it also helped that the roasted turkey breast from Marcel's taste great even by it itself. I was in panini heaven, so easy to make and tasty...a combination that's hard to come by....hehehe...
Even with the side salad and fruit cup, I was done in less than 20 minutes. I prepared a simple salad of baby spinach, pine nuts, and apple in a simple olive oil-lemon dressing to go with the salad. A fruit cup of mixed, sliced fruit such as apple, blackberries, and strawberries round out the meal. The fruits were part of the produce that I purchased from the farmer's market on Third and Fairfax.
Ingredients:
1 Rustic bread or any crusty bread, sliced in half
Prepared (I used my homemade) pesto
2-3 slices of oven-roasted turkey breast
a handful of baby spinach leaves
grated mozzarella or sliced provolone cheese
1. Spread pesto on both sides of the bread.
2. On one side, add a layer of cheese, then spinach.
3. Add turkey on another layer and top with another layer of cheese.
4. Cover with the other half of the bread and press down. Set aside
5. Heat your cast iron grill pan over medium heat.
6. Add about 1/2 a tsp of olive oil. Using a non-stick, heat-resistant basting brush, spread the oil all over the grill pan.
7. Position your panini in the middle of the pan. Place a layer of foil on top of the panini before placing you weight.
***make sure that the weight is stable and provides even weight on the panini. I used a cast iron pan and then topped that with a cast-iron wok to provide a a heavier weight on the sandwich.
8. Grill each side for about 3-4 minutes or until it is toasted according to your preference. When one side is done, use a spatula to turn it over and cook the other side using the same procedure.
9. When done, remove from heat and slice into two equal portion. Serve with potato chips, fried, salad or your choice of sides.