I hope everyone's weekend was way better than mine. I was in pain all weekend long as a result of yet another steroid shot to my injured elbow ...Ughhh, being the fourth shot within the last six months, I think they have outlived their usefulness. As a result, there has been no significant effect on the pain anymore. It is still at the same intensity as it was before the last one...they need to find a better treatment regimen for me...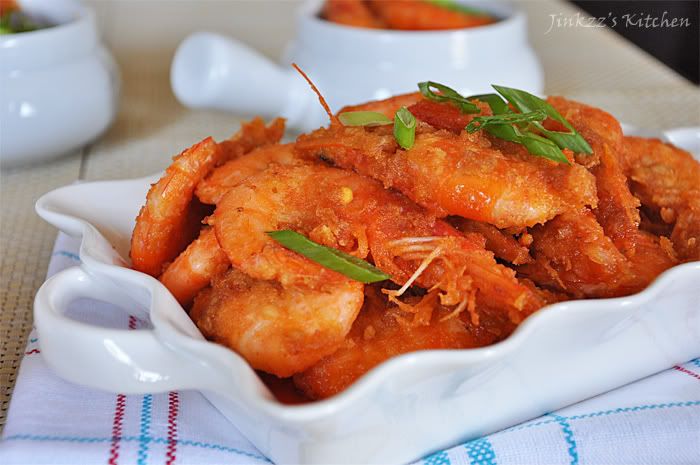 On the bright side, I cooked an excellent dish today. Cooking is like my oasis in the desert that helps to keep me going when things are not going as they should. It helped keep me sane when I went through a rough patch and still does help keep my brain occupied now since I do not use it as much as I did when I worked... another added advantage is that it helps exercise my elbow and hand to keep it moving....hehehe... okay, enough about my problem and moving on to the good part...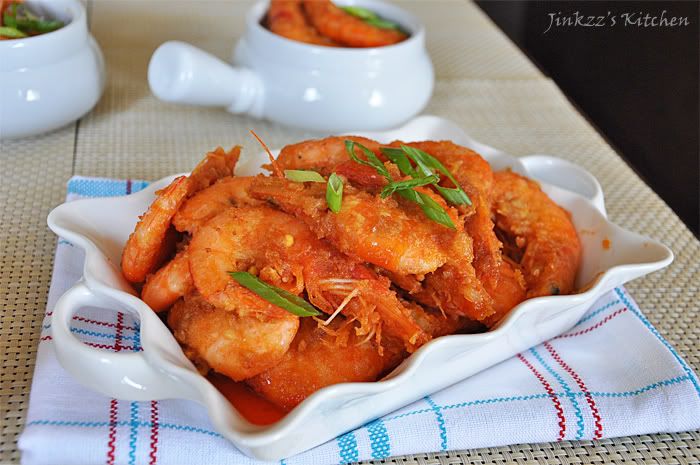 This dish is Chinese in origin but uses ingredients that are commonly used in Asian cooking. One of the main ingredients which, in my opinion, takes this dish to an entirely different level is the addition of salted egg yolks into the sauce. The salted egg yolks just makes the sauce creamy and tasty. Although salted egg yolks were used in the dish, surprisingly, it is not salty at all so do not be afraid of seasoning your shrimp or adding salt to the cornstarch or all-purpose flour used in dredging the shrimp prior to frying.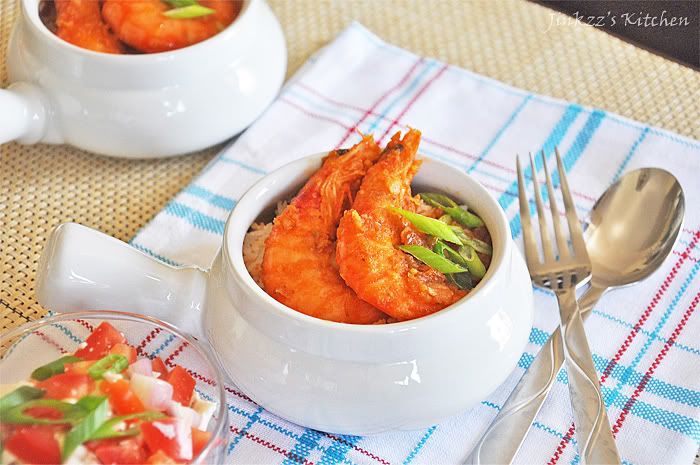 Serve this with a piping hot bowl of steamed rice and use your hands to dig in. While that may sound barbaric or crude to a lot of people, I do think this is the best way to eat this dish...hehehe....that's just the Filipino way of enjoying a meal. Of course, I have never been too good with using my hand to eat rice with but I definitely use my hands to peel the shells off the shrimps and dunk it in its sauce. The shrimps are good but the sauce is divine... As the Kentucky Fried Chicken slogan goes, these babies are finger lickin' good
BTW, do not throw away the salted egg whites since that can be used in another dish which, in my opinion, is a great accompaniment to this dish. Recipe will follow.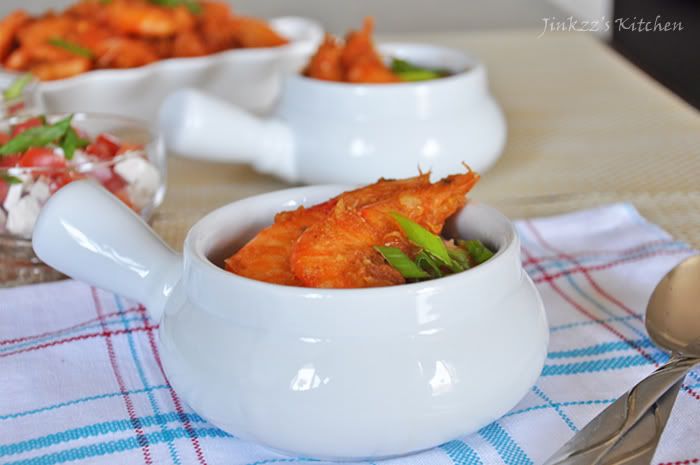 Ingredients:
1 1/2 lbs large shrimps
1/2 cup cornstarch
salt and pepper, to taste
1/4 cup oil
1/2 block butter
1 head garlic, peeled and finely chopped
6 hard-boiled egg yolks, mashed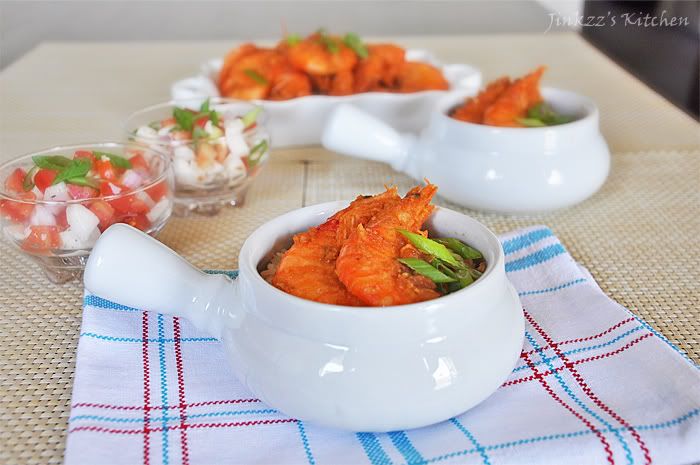 1, In a bowl, mix cornstarch, salt and pepper.
2. Lightly dredge the shrimp in cornstarch mixture, shake off excess.
3. Heat a non-stick wok over medium heat. Add oil.
4, When oil is hot, add shrimp and lightly saute. Cook until shrimp turns orange in color then immediately remove from heat. Transfer shrimp to a paper towel lined plate to drain excess fat.
5. Add garlic to the oil and saute until fragrant and soft.
6. Add salted egg yolks and stir to dissolve.

7. Add shrimp back to the wok and stir to mix.
8. Remove from heat and serve.