Hello, my name is Jinkzz and I am junkie...technology junkie, that is...hehehe. I have always been fascinated by technology and all of its advances. You can say it was love at first sight... a love affair that has spanned many,many years. I can still clearly remember my first encounter with the computer which was in our computer class. Mind you that back in those days, the computer's operating system is not the same as what we see at the present. The computer, back then, operated on MS-DOS (Microsoft disk Operating System) which meant that in order to input some information, you have to be able to memorize some of the commands and prompts. Oh goodness, I think my age is definitely showing right now...hahaha! Even with that crude technology, I was still smitten with computers thus started my long-term love affair with it as well as technology. When MS windows and the internet came, that definitely revolutionized computers as well as making data transfer, file sharing, and communication much easier than it used to be. It also made snail mail and exorbitant phone bills made from local and international calls a thing of the past. Because of these technologies, the world that we live in has become smaller and remote areas more accessible.
As a self-confessed tech junkie, I have kept-up with technology and its advances. As a testament, I have all sorts of gadgets and computer peripherals stored in my store room as proof ... lol... you can say that some can be considered, in terms of technolgy, as antique or vintage. Of course, unlike a good vintage wine, their value drops down to practically zero once the latest upgrade comes out but I still like to keep some of them for old time's sake...hehehe.
One of the things that I own (and love) is a logitech revue. I got this old thing when it first came out in October. It allows me to surf online using my television screen as the monitor (which is many times bigger than my laptop screen) which I hardly use instead, Unfortunately, I think this unit has been discontinued by the manufacturer. I use it to access my netflix subscription so I can watch shows and movies on the big screen rather than my laptop. I thought it had served me well until recently when I discovered discovered downloadable apps via google tv. Ha! way to realize that my gadget is not being utilized at its optimal level. Three apps that I have found most helpful for my cooking passion are allrecipes.com, kraftfoods.com, and logitech harmony app for iPhone. The first two are recipe database sites while the last one is a remote control app.
Allrecipes.com is a website which I used to utilize a lot in the past when I needed a reference or to find inspiration on what to cook. It is a database of recipes submitted by ordinary user and features a huge collection of almost every possible recipes that one can think of. Over the course of a few years though, I have forgotten about this gem of a website until I discovered its app on google tv (Via my Logitech Revue). Since one can view the recipes on a bigger screen, it makes it easier to read and follow if one is using it while doing the actual cooking.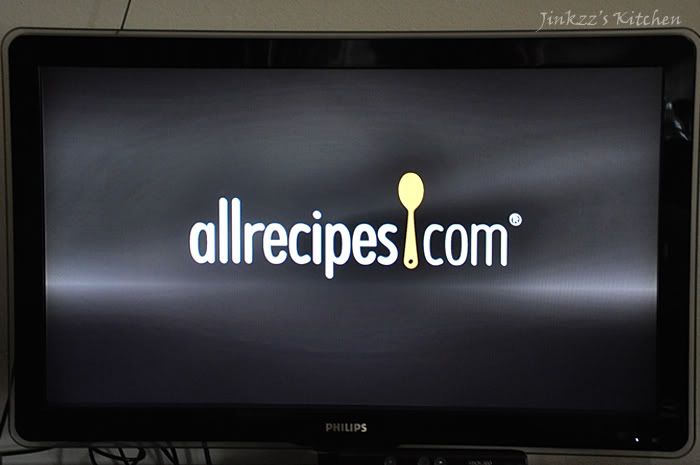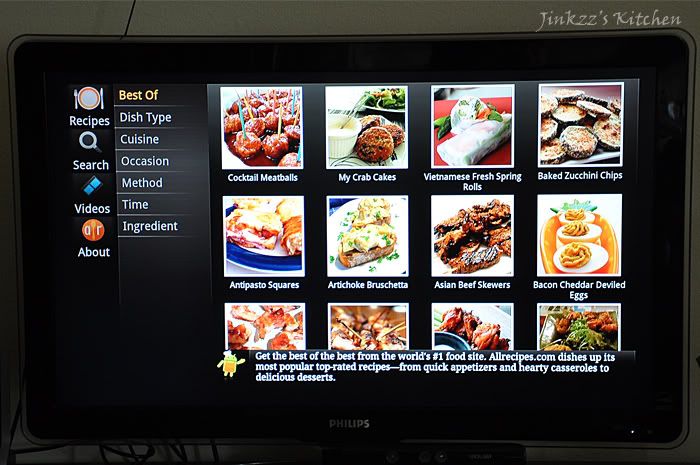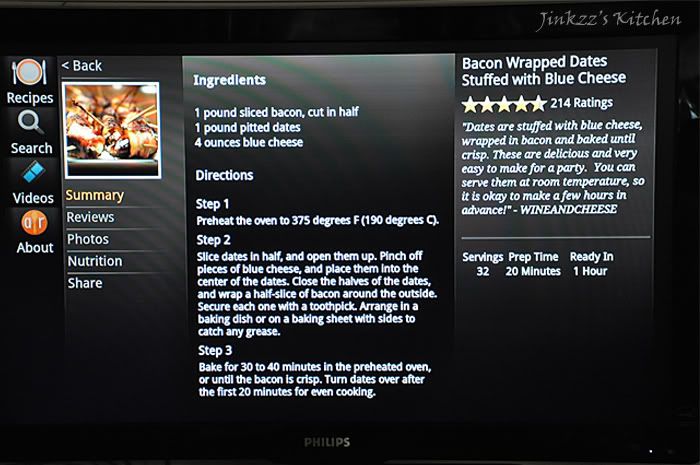 Another app that I found very helpful is that of Kraft food which has a good collection of recipes that mostly utilizes Kraft products but can easily be modified to suite one's preference and taste. The added advantage of this app is that the recipes come with video demonstrating how the dish is made thus making it easy, even for novice cooks, to follow. The video files also have a built-in icon that will allow the user to view it in full screen mode.
Lastly, the Logitech Harmony app is a free downloadable iPhone app which, once downloaded on the device,will allow the user to use it as a remote control for both the Logitech revue and your television. This is very helpful because Logitech Revue's remote control (which is hardly a remote control but rather a full-sized keypad) is so bulky. This allows the user to move from one webpage to another or from one app to the next. It also allows the user to control the volume, fast forward, or rewind the video. Also, helps get rid of some of the remote controls thus promote de-cluttering of the coffee table :)
Since my Logitech Revue is old (ancient in terms of technology lifespan, I have been thinking of getting a replacement but couldn't decide between a Boxee Box or Apple TV. I've read good reviews for Boxee Box as well as Apple TV but I am not sure if they carry the same apps that I currently have particularly Crunchyroll which contains an extensive library of anime and drama (Korean, Japanese, Chinese) programming. Oh, how I wish that a Viki and Dramafever app compatible with google tv will come out soon. That will really be a treat since they are both available on iPhone and iPad.