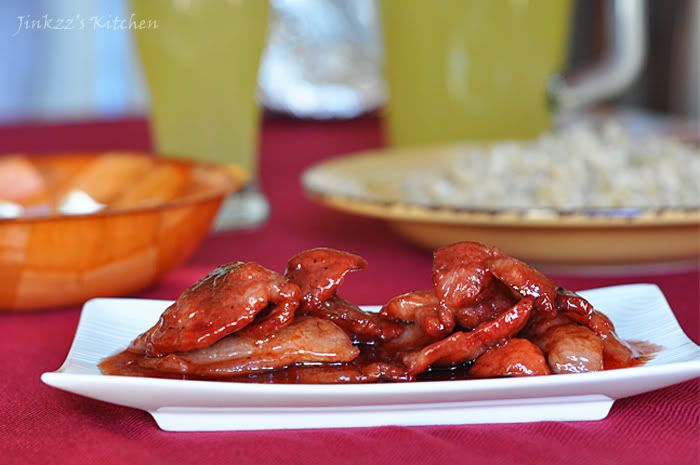 Pork Tocino is one of the typical dishes that is served for breakfast. It is part of the breakfast combo Tosilog or tocino, sinangag, itlog (tocino, fried rice, eggs). Again this is an easy dish to make and the ingredients can be doubled easily to make a big batch. They can be kept in the freezer until ready to cook.
For this pork recipe, I used thinly sliced pork which I has the butcher sliced at the time I purchased it. I marinated it in a mixture of pineapple juice, 7-up, soy sauce, brown sugar, finely chopped garlic, salt, and pepper. I also added a few drops of red food coloring to give it that nice reddish color which is typical of tocino. I marinated the pork slices for about 12 hours before cooking it in a little bit of water and oil. The 7-up, pineapple juice and sugar gives it a nice sweet flavor as well as gives it a nice caramelized sauce. I only made a small batch using 1 pound of pork but I think I will have to triple the recipe next time since 1 pound didn't really last me very long.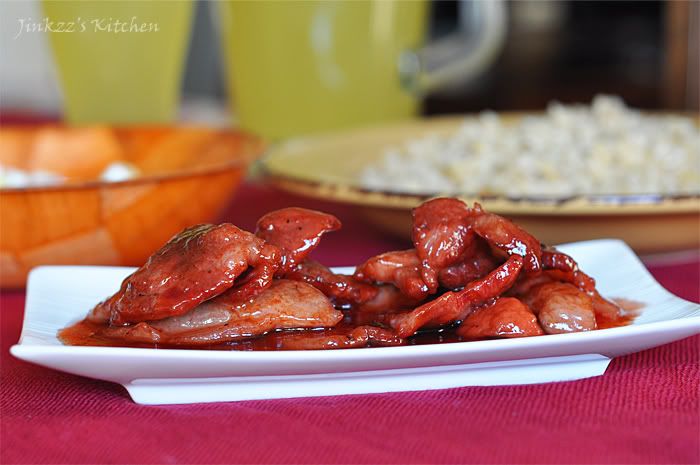 Ingredients:
1 lb. thinly sliced pork shoulder or butt (I chose a portion that has a little bit of fat because it just taste better :)
1 cup pineapple juice
1/4 cup soy sauce, less if you prefer
1/2 cup 7-up or sprite
3/4 cup packed brown sugar
sea salt and pepper, to taste
3 cloves garlic, finely chopped
red food coloring, optional.
1. In a container with tight fitting lid, combine pineapple juice, soy sauce, 7-up, sugar, and garlic. Season with salt and pepper according to taste. Add food coloring, if desired.
2. Stir to mix well and dissolve sugar.
3. Add slices of pork and marinate in the refrigerator for 12 hours.
4. When ready to cook, heat pan over medium heat. Add about 1/2 cup water then add the pork sliced with some of the marinade and simmer until pork is tender.
5. When pork is tender and almost all of the liquid has evaporated, add about 1 Tbsp of oil and cook until it caramelizes nicely.
6. Remove from heat, transfer to a serving platter and serve warm.