In a typical Filipino breakfast, you can also find a meat dish (tocino, chorizo, tapa, or hotdog) as well as fish or dried fish to go with the rice. Accompaniments include papaya relish (atchara) and/or sliced tomato. The other typical component of a Filipino breakfast is eggs which can be scrambled, fried, or boiled. Aside from these three, salted eggs or itlog na maalat is also very popular. I like mine sliced and combined with sliced tomatoes and shallots with a little vinegar...delish.
Salted eggs are actually easy to make. You just need eggs, water, and salt. Soak the eggs in the brine solution for a few weeks and then hard-boiled. Viola! salted eggs. Duck eggs are typically used for this recipe but you can use chicken eggs instead. These salted eggs are actually readily available at the Asian markets but I like to make my own. why? just because...hehehe. I kept mine in the corner of the cupboard where it is dark for about 4 weeks before I boiled them. Hard-boiled salted eggs can be kept in the refrigerator.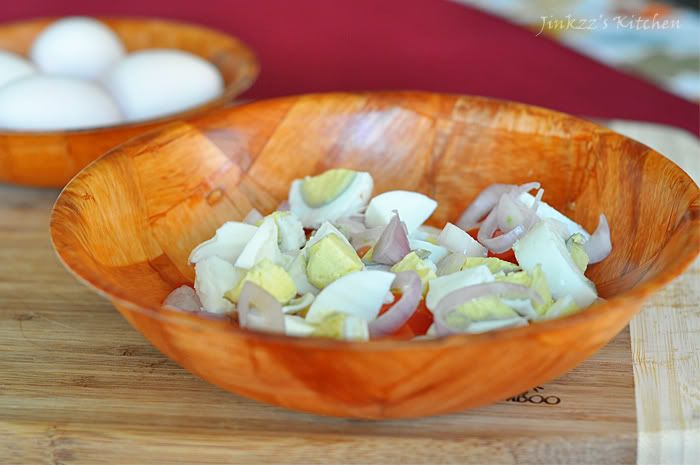 Salted eggs recipe:
1 dozen extra large chicken eggs
1 1/2 cups sea salt
4 cups water
1. Inspect eggs to make sure that none of them have any cracks.
2. In a non-reactive container, mix sea salt and water. Stir to dissolve.
3. Place eggs carefully making sure that they do not crack. Also ensure that they are submerged in the brine mixture.
4. Cover the container and store in a cool, dark spot for 4 weeks.
5. When ready, hard boil them. Cool and store in the refrigerator.
Combine all ingredients in a bowl and serve with rice and meat or fish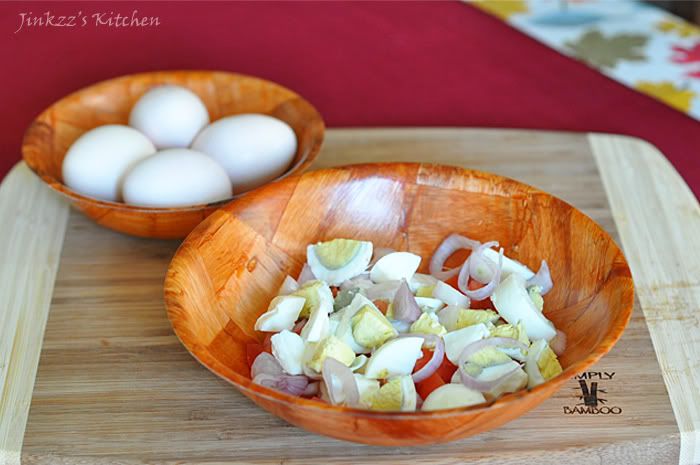 Salted Eggs with Tomatoes and Shallots.
2-3 hard-boiled salted eggs, chopped or sliced coarsely
2 medium sized Roma tomato, diced
2 small shallots, sliced into rings
1 Tbsp vinegar