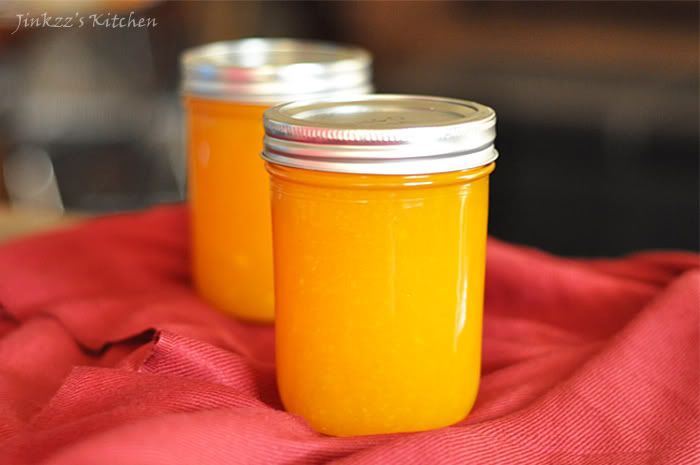 I miss mango jam but unfortunately I cannot find any that is sold in the supermarket. Solution? Make my own mango jam from scratch. Jam making is actually easier than it looks and requires just a few basic ingredients. You really do not need some fancy schmancy equipment to make a decent jam. You have to make sure though that you sterilize the bottles to prevent early spoilage. Be very careful when moving handling hot containers as it may burn your fingers and hand. I used a large and heavy pan with lid to sterilize my mason jars as well as boiling filled jars afterwards.
Mango jam is really good with bread or crackers. I remember this particular brand that they sell in the Philippines called Clara Ole' that makes really good mango and pineapple jams. I wish they sell this brand here but even Filipino stores do not seem to carry them :(
Mango jam was easy enough for me to make. I used firm but ripe mangoes, peeled the skin and then slice as much of the flesh off the bone or seed as possible. Using a food processor, I processed the mango slices until they become chunky consistency. Next is to bring a cup of water to a boil then add pureed mango, lemon juice, sugar, pectin, and lemon zest. Bring to a boil until sugar is dissolved then lower the heat to simmer it until it thickens to gel consistency. Transfer them to sterilized bottles and seal then boil the whole thing for about 10 minutes. Remove from heat and let it cool. From 4 mangoes, I was able to make 2 (8 oz) bottles of mango jam. I did taste test by spreading it on crackers...yummy...taste like I remembered a mango jam should taste. Next project will have to be the persimmon jam then maybe, just maybe, I will try to make guava jelly... another favorite of mine which unfortunately I am unable to find here in the States.
Ingredients:
4 ripe (but firm) mangoes, peeled and flesh removed
2 cups sugar
1 cup water
juice of 1 lemon
zest of 1 lemon
1 Tbsp pectin
1. Sterilize mason jars according to direction.
2 Peel and chop mangoes then process in a food processor until it reaches a chunky consistency.
3. Place sauce pan over medium heat and add water. Bring to a boil.
4. Add mango, sugar, water, lemon juice, lemon zest, and pectin. Bring to a boil until sugar and pectin is dissolved.
5. Lower the heat to let the mango mixture simmer until it reaches the desired consistency. Make sure you stir frequently to prevent burning.
6. Test for gelling by using a cold spoon: take a spoonful of mixture and let it drop from spoon. If it drops in globs instead of being runny, it should be done.
7. Transfer to sterilized hot mason jars and seal using a two-piece lid.
8. Process filled and sealed mason jars according to manufacturer's instruction. Remove from heat and let it cool then store.