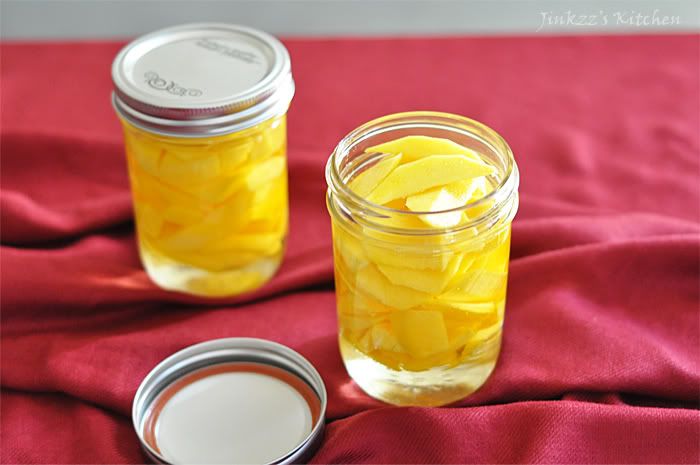 Pickled mango...yummy! This is a Filipino appetizer recipe that is sure to whet your appetite and make you eat a lot. This dish is made by slicing unripe or slightly under-ripe mango and then pickling it in a vinegar, sugar, and salt mixture. This is a good accompaniment to any Filipino meal of pork, chicken, beef, or seafood.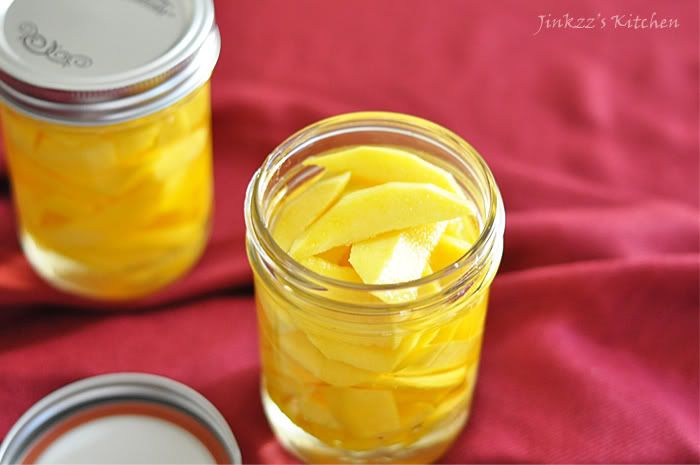 I remember having mango in vinegar while I was growing up in the the province in the Philippines during summertime when ripe and green mango are in season and abundantly available. We have a variety of mango in the Philippines known as Indian mango which is perfect for this recipe but since that is not readily available, I just used the ones that are sold in the regular supermarket. One thing to remember though is that you need to use mangoes that are firm and slightly under-ripe to ensure that it is crisp and won't disintegrate when pickled. You need to peel the skin off and then slice the mango any way you want. I like slicing them in strips and thinly. Make sure you remove as much of the flesh from the stone as possible. If you choose to pickle whole mangoes, it is perfectly okay to do so as well. They can be refrigerated for about a week or so...that is, if they last that long. For me, it would be a miracle if they last more than 3-4 days as I can eat it with every single meal.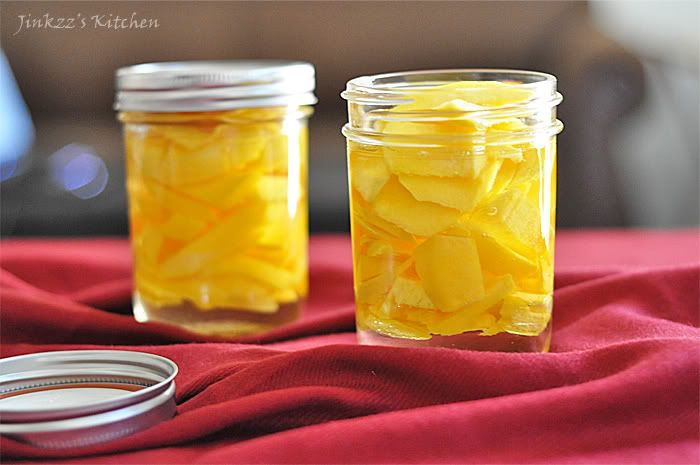 Ingredients:
3-4 unripe mangoes, peeled and sliced
1 cup white vinegar (I use cane vinegar)
1 1/2 cups sugar
1/8 cup salt
1. Heat pan over medium heat.
2. Add vinegar, sugar, and salt. Bring to a boil until everything is dissolved then remove from heat and let it cool.
3. Peel and slice mangoes then pack the sliced in a sterilized container.
4. Ladle the cooled vinegar mixture over mango and cover with top tightly.
5. Keep refrigerated.