Ahhh...it has been a while since I last posted anything on this blog. I have been cooking and taking pictures though but have been really busy that I have not had found the time to post. I went back to work and school in the same week so my schedule has really been crazy but I promise to try to find balance and time to post all the dishes that I have cooked and recipes that I am working on.
Morisqueta tostada con chorizo is nothing more than fried rice with Chinese sausage...simple and easy to make but really taste great. A complete meal by itself. I just used some leftover rice that I cooked the night before then added Chinese sausage. The sausage not only gives it a nice flavor but also makes it smell really good. Chinese sausage are sold in plastic packages and are readily available at most Asian supermarket. It is firm and looks dehydrated so I usually boil it in a little water to rehydrate it and make it fork-tender. The rest of the ingredients that I used are pretty much standard ingredients for Filipino-style fried rice- salt, soy sauce, onions, and garlic. I served this with pickled mangoes (burong mangga) to go with it...yummy!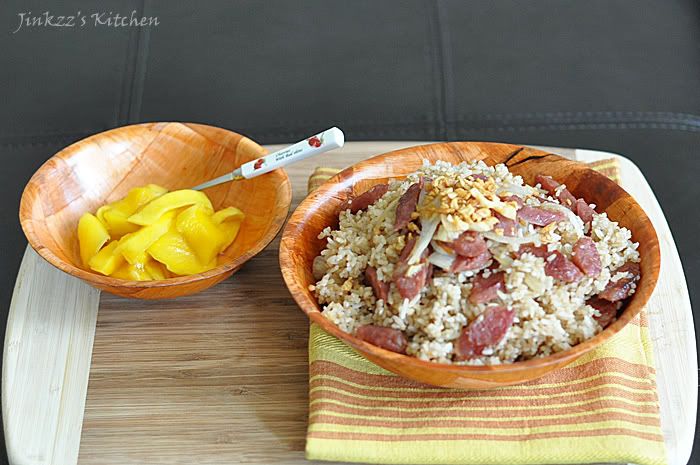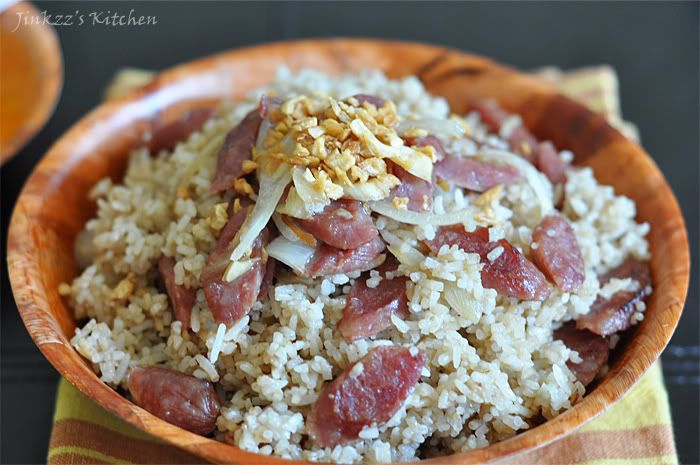 Ingredients:
4 cups day-old steamed rice
3-4 Chinese sausage
1 shallot, chopped
3 cloves garlic, chopped
1 Tbsp soy sauce
salt and pepper to taste
2 Tbsp oil
2 tsp fried garlic as garnish
1. Slice Chinese sausage thinly and diagonally.
2. Heat pan over medium heat. Add oil then saute shallot and garlic until translucent.
3. Add Chinese sausage and saute for about 1-2 minutes then add about 1/2 a cup of water. Simmer until Chinese sausage is tender and all the fluids has been absorbed. Saute sausage for another 2-3 minutes.
4. Add rice and cook until slightly toasted. Make sure to stir frequently to prevent bottom from burning.
5. Add soy sauce and season with salt and pepper according to taste. Cook for another 1-2 minutes then remove from heat.
6. Transfer to a serving dish and top with fried garlic. Serve warm.